If you are considering a breast augmentation to enhance you image, the following factors must be met in order to make you an ideal candidate:
You must be in good physical health
Your breasts should already be fully developed
You have realistic expectations of what the procedure can and cannot do for you
You unhappy and dissatisfied with the shape of your breasts, which may have been caused by pregnancy, weight loss, or aging
Your breasts are asymmetrical, perhaps due to one not developing properly
Breast Augmentation Performed Through the Arm Pit
Dr. Prasad and his associates have helped many people with their safe and quick recovery breast augmentation procedure. At Prasad Cosmetic Surgery, breast augmentation is done through a small opening hidden in the armpit, that way no scars under the breast or in the nipple are seen. This technique is called the "Transaxillary" approach to breast augmentation and fewer than than 1% of plastic and cosmetic surgeons perform this advanced technique. Why is this so? Most plastic surgeons find this technique time consuming, which means that less surgeries can be performed in a day, which ultimately means less money for the plastic surgeon. However, the conventional way of doing breast augmentation also means that the patient is put under general anesthesia, and is left with scars under the breast or around the nipple.
The procedure experience is as follows:
The patient is placed under LITE™ anesthesia, which is a local anesthesia with "twilight" sedation (no general anesthesia).
A small opening is made in the armpit area, in what is called the transaxillary approach.
The procedure is completed
Quick recovery aftercare is implemented with minimal discomfort, so that you can get back to normal life in as early as 2 days
View Before and After Pictures of our Breast Surgery Patients below. (Click on image to see next photo.)

[slideshow id=3 w=700 h=450 float=center]
Dr. Prasad feels that caring for his patients means doing everything possible to perform a safe procedure with quick recovery. Dr. Prasad's advanced technique involves the use of special equipment and requires more preparation time. This means it cannot be performed like a factory procedure.
Safe Breast Augmentation
Dr. Prasad has one simple philosophy: "I treat every patient like they are my family. Once I learned about the technique to perform breast augmentation under local anesthesia, which is safer and more comfortable for my patients, I made the choice to help my patients restore their confidence and get back to their normal life as soon as possible".
Breast Augmentation at Prasad Cosmetic Surgery
Dr. Amiya Prasad is a Diplomate in Breast, Body and Extremity Surgery at The American Board of Cosmetic Surgery and has been a leader in developing safe and quick recovery procedures for the face and body for 20 years. Dr. Prasad and his associates are committed to performing safe and natural cosmetic procedures. Several of Dr. Prasad's staff members have had breast procedures and would be happy to discuss their experiences with you.
Your Breast Augmentation Consultation
Dr. Prasad will perform a thorough evaluation and examination to help you decide if you are a good candidate for transaxillary breast augmentation. Your health will be evaluated and the procedure will be explained to you.
Your breast augmentation surgery will be performed in our Joint Commission certified operating room.  Depending on the level of activity and physical labor required for your job, you will probably be fine to return to work within a few days.
Many women from all over the world, as well as locally in New York and Long Island, have reported wonderful results from our breast augmentation services. If you are considering a breast augmentation, call Prasad Cosmetic Surgery today to schedule a consultation.

Breast Augmentation after Having Children
If you miss the way you looked before you had your children, you're not alone. Many women notice their breasts get smaller after having children or even from just being very athletic. If you plan on having a consultation, however responsibilities to your family and concerns about the risk of general anesthesia may keep you from pursuing your desire—you're in good company. Here are some situations other people like you have mentioned to us:
You have young children and don't have time to recover
Your husband or significant other is afraid of you going under anesthesia
You have friends who had the surgery and you don't like their scar
Your friend had surgery and was in pain and sick for several days afterward
You're afraid your breasts will be too big after surgery
Your friends say you look fine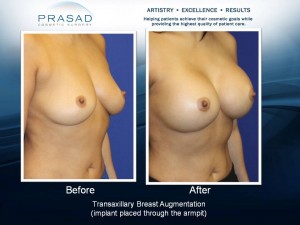 Safe, LITE™ Anesthesia & Quick Recovery breast augmentation with no scars on or under their breast
We understand the family responsibilities and time pressures that may have kept you from having breast augmentation. Safety, quick recovery and excellent results are our core values. At Prasad Cosmetic Surgery, we routinely perform advanced breast augmentation through the arm pit, which means there are no scars on or under the breast.
You can now restore your confidence in your appearance in a safer way with quicker recovery than can be achieved with a traditional breast augmentation.