Microdermabrasion

: facial Peels & facials
---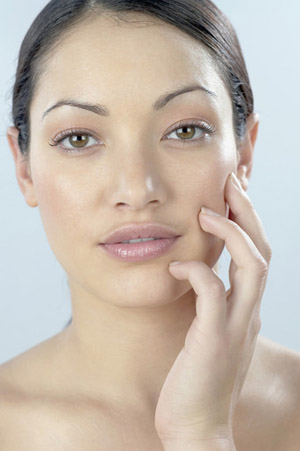 Microdermabrasion is a popular procedure in our New York City and Garden City Medi Spa clinics and is classified as superficial dermabrasion, or exfoliation. This method employs tiny aluminum oxide crystals which are sprayed onto the skin and immediately sucked up along with dead skin cells.
Many patients report that their skin feels smoother after this treatment. Some of the reasons why this treatment is so popular is because it is painless, there is no recovery time after the procedure, and it is safe on any skin color or type.
This procedure is one that is very effective for men as well as women. The exfoliation will effectively clean your skin far deeper than any washing done at home will ever do, and it is common knowledge that maintaining your skin's texture and glow is important to keeping your natural, youthful look.
The purpose of dermabrasion is to smooth the skin and, in the process, remove small scars (from acne), moles or fine wrinkles.
The mechanical method remains popular because it is affordable and produces practically the same results that the laser method does. One of the disadvantages of dermabrasion, however, is that it can exfoliate skin only 15-25 micrometers deep, which means that it cannot be used for deep wrinkles. Dermabrasion treatment carries few possible side effects or complications. However, some patients may experience dryness, sun sensitivity, and temporary bruising on the treatment area.
Microdermabrasion generally refers to a non-surgical procedure that abrades less deeply than dermabrasion. Although the mechanism of the two procedures is similar, the difference in the depth of the abrasion results in different recovery times. Dermabrasion recovery time may take as much as several weeks to several months whereas microdermabrasion often incurs no downtime.
You may hear about microdermabrasion kits for home use but be careful with these. Prasad Cosmetic Surgery, under the supervision of Board-certified Oculoplastic surgeon Dr. Amiya Prasad, a "superspecialist" in face and eyes, uses only the latest in microdermabrasion procedure technology available and his trained staff will ensure that you are treated with experienced, professional care. When it comes to you, you should have the very best.
Schedule your appointment now at Dr. Prasad's offices in Manhattan, NY (212)265-8877 or Garden City, Long Island NY (516)742-4636
HydraFacial™ – Hydradermabrasion
HydraFacial™ is the only hydradermabrasion procedure that has the benefits of cleansing, exfoliation, extraction like other skin resurfacing treatments, but also has the added benefits of hydration, moisturization and even antioxidant protection. HydraFacial™ treatment results in clear, beautiful skin in quick treatment with no downtime.
HydraFacial™ is true spa treatment that relaxes while rejuvenating your skin. It is non-invasive and does not irritate the skin. The treatment improves fine lines, wrinkles, blocked and enlarged pores, oily and acne-prone skin, hyperpigmentation and dark spots.
HydraFacial™ is suitable for most skin types, including: thinned skin, older skin, ethnic skin tones, dry skin,  and oily skin. It is an alternative to microdermabrasion, with the added benefits of hydration, moisturization, and antioxidant protection, and all around more comfortable experience.
HydraFacial™ also has optional Red LED Light Treatment for more advanced signs of aging and hyper-pigmentation, and the Blue LED Light Treatment for those challenged with oily and acne-prone skin.
Other Customized HydraFacial™ Treatments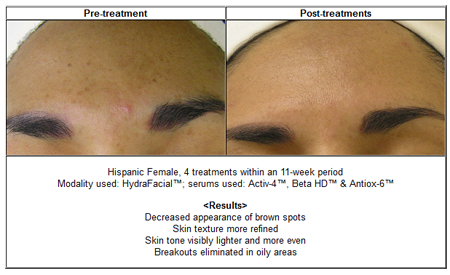 DermaBuilder™ Peptide Complex (DermaBuilder™) – advanced treatment for fine lines, wrinkles, skin firmness, skin tone, and improved skin texture. DermaBuilder™ Daily is available for use at home (0.5 oz/ 30-day supply).
GlySal™ Acid Peels (GlySal)- The blend of glycolic and salicylic acid offers physical & chemical peeling for optimum results. There is little to no downtime associated with other acid peels, while skin is well hydrated with the procedure.
Activ-4™ Skin Solution- Can be used on most skin types. It imporves overall health of skin, and treats hyperpigmentation, dark spots, fine lines, and uneven skin tone.
Beta-HD™ Skin Solution- A salicylic acid-based skin solution for acne-prone and oily skin. The solution softens sebum, removes skin debris, and helps with painless extraction of whiteheads and blackheads. It's also available for home use asBeta-HD™ Daily (1.7 oz/ 30-day supply).
Antiox-6™ Skin Solution: A blend of vitamin A, vitamin E, white tea extract, and hyaluronic acid  for comprehensive antioxdiant protection and hydration. Antiox-6™ is suitable for most skin types. Antiox™ Daily is available for home use (1.7 oz/ 30-day supply) for skin protection from environmental free radicals.
---
Peel treatments are a safe and effective way to reduce the appearance of fine lines and wrinkles, uneven pigmentation, sun damaged skin, acne, rosacea and sensitive skin.
The first step to achieving radiant, healthy skin is a skincare consultation with our certified medical aestheticians. During this complementary skin evaluation, our aesthetician will recommend treatment options that are tailored to your skin type, conditions, and lifestyle.
Salicylic Peel


Salicylic Acid is a Beta Hydroxyl Acid used in the treatment of oily skin. It improves skin tone, fine lines, wrinkles, acne conditions, prominent skin congestion, and is an excellent exfoliating agent.

Glycolic Peel


This rapid exfoliating peel is customized in strength for all skin types. While increasing skin cell turnover, Glycolic Acid improves and revitalizes dull skin leaving you with a smooth rejuvenated complexion.

Jessner Peel


The Jessner Peel is a synergy of effective acids that help reduce the appearance of melasma, freckles, acne and mild cases of rosacea. It is recommended for aging and sun damaged skin.
In addition, our aesthetician will discuss your skin type needs and cosmetic goals to customize a daily skin care regimen that is right for you.