Asian Eyelid Surgery – Double eyelid surgery
---
Asian eyelid surgery is a popular procedure among Asian descendents around the world, including their countries of origin. Seeking the "double eyelid" gives the upper eyelid a visible crease or fold when the eye is open. It has been estimated that 50% of the Asian population don't naturally have the double eyelid fold.
Considered to be a desirable aesthetic feature among many East Asian cultures, this procedure for the upper eyelid makes the eyes appear more open, less tired, and easier to apply eye shadow. Dr. Amiya Prasad, a highly respected Oculofacial plastic surgeon for over twenty years uses his expertise in eyelid surgery (Asian Blepharoplasty) to provide patients with natural looking results.
Asian eyes vary in terms of the epicanthal fold, amount of skin, excess fat and other important structural elements. One procedure does not fit all.  Oculoplastic surgeon Dr. Prasad has extensive experience with Asian eyelid surgery and has performed double eyelid blepharoplasty for many of his Asian patients from all over the world.
Asian Blepharoplasty – natural looking Eyelid Crease
Creating a natural-looking double eyelid must take into account factors such as the age and gender of the patient. An important decision before  Asian Blepharoplasty is determining whether you are a candidate for an incisional or a non-incisional procedure.
If you're a candidate for an incisional procedure, it's critical to avoid removing too much skin or fat which is a common technical error made by surgeons less familiar with Asian eyes. Successful surgery begins with a design planned prior to the procedure. We have helped many Asians who have had eyelid surgery ended up dissatisfied with their appearance. Dr Prasad performs many Asian eyelid revision surgery procedures.
Asian Eyelid – Difference in Anatomy
One of the most frequent errors made by plastic surgeons performing Asian eyelid surgery results in  "Americanizing" or "Europeanizing" the eyelids, which results in a very unnatural appearance. The Asian eyelid is different from the "Western" or "Occidental" eyelid in many ways, which is why Asian eyelid surgery (blepharoplasty) is so unique. It is important to know that Asians do not only have one type of eyelid:

Among the 50% of Asians having an eyelid crease, there can be variability as to the symmetry and definition of the eyelid creases. Some people report that the crease can change where one day they have a crease and the next day the crease is not as defined. Many Asian patients come to address their desire to have a stable and single crease to enhance the appearance of their eyes.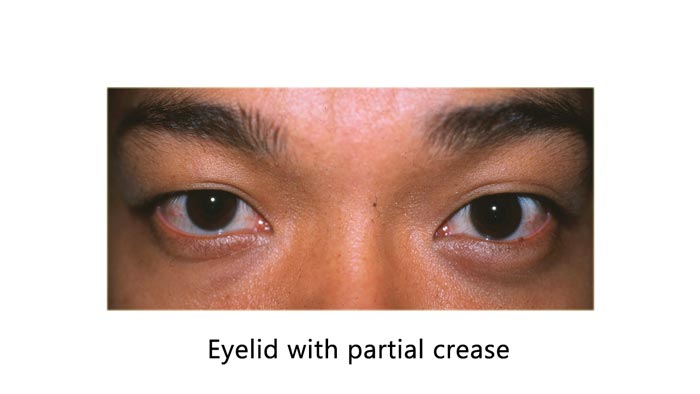 The position of the fold to be created varies from patient to patient, Dr Prasad will show you where the fold can be placed to achieve a natural look. Depending on your anatomy, the fold can be positioned 2-3 mm above the lid (fine crease), 4-6 mm(medium crease) or 7-10 mm( deep crease).
This is a function of the amount of skin which overlaps the position of the actual crease which can vary from 6.5 to 10 mm. In contrast, blepharoplasty (eyelid lift) in Caucasians is generally performed to reveal more of the eyelid and can be 10 mm or higher.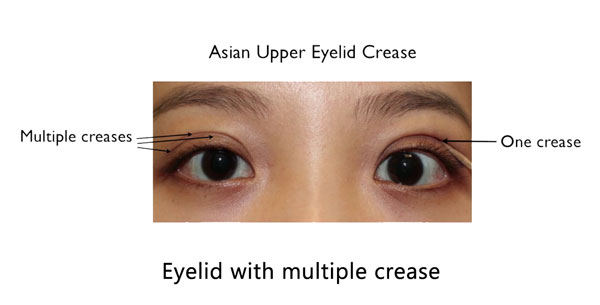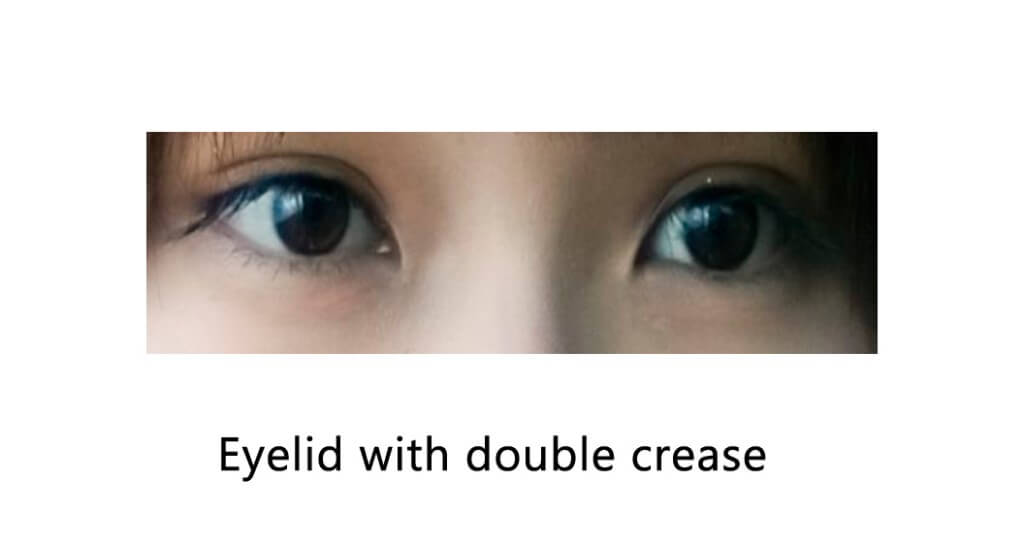 Candidates for Double Eyelid Surgery
If you're someone who wants to have a more defined eyelid crease, you may be a candidate. It's important to understand that age can be a factor in the type of crease and the method of surgery required. For example, a 60-year-old woman would likely need a different type of surgery when compared to a 30-year-old man.
How to prepare for surgery
As with most cosmetic surgeries, its important that you be in good health. Management of conditions such as blood pressure and diabetes are also important. Prior to surgery, we routinely review current medications and make sure our patients avoid any medication or supplement that is a blood thinner. During your consultation, Dr. Prasad will guide you in preparing for your procedure.
How is the Asian eyelid surgery performed?
The Asian eyelid surgery consists of reshaping the upper eyelid. During your consultation with Dr. Prasad, various factors will be evaluated including:
Your skin thickness and quality
Your fat volume under the skin
Your healing from past procedures
Your unique anatomy around your eyes
Your age
Your gender
Dr. Amiya Prasad will customize the procedure to create the fold. Depending on the amount of extra skin and fat under the upper eyelid, Dr. Prasad will choose to perform a non-incisional or an incisional procedure.
Technically, the non-incisional technique is still surgery, but instead of making an incision and removing skin from the upper eyelid, small openings are made in the skin. A stitch is passed through in a way to attach the upper eyelid skin to the underlying levator muscle muscle, which is responsible for lifting the eyelid. This will result in the eyelid skin folding in when the eyes are opened.
If there is extra skin and fat on the upper eyelid, an incisional approach is used to create the fold. After Dr. Prasad draws the appropriate pattern, an incision will be made in the upper eyelid area. Typically, a small volume of fat will be removed in order for the crease to be defined with the intention of avoiding creating a "hollow" area.
How long does double eyelid surgery take?
Dr. Prasad performs double eyelid surgery in approximately 1 hour. However preparation time and immediate post-operative recovery means you'll be at the clinic for approximately 3 hours. The time of the surgery can be longer when performed with other procedures.
The Asian blepharoplasty is performed at our offices, located in Manhattan and Garden City, Long Island in our operating facilities certified by The Joint Commision.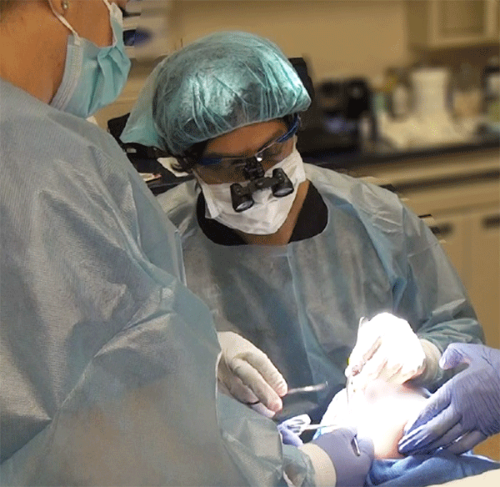 Anesthesia
The procedure is performed under local anesthesia with intravenous or IV sedation (LITE IV sedation). Our patients are comfortable and appreciate being able to avoid general anesthesia.
When appropriate, Dr. Prasad will have select patients open their eyes during the surgery (there is no pain or discomfort) to see how the eyelid crease has formed. This allows Dr. Prasad to adjust the procedure for best results.
Dr. Prasad performs Asian eyelid surgery on patients coming from all over the world.
Asian Eyelid Surgery Recovery & Follow Up
Following your double eyelid surgery, you will be seen in about 1 week for removal of sutures (for incisional surgery).  Swelling after Asian eyelid surgery is common and can make the eyelid crease appear too high. You will see Dr. Prasad regularly after your procedure to make sure you are healing properly.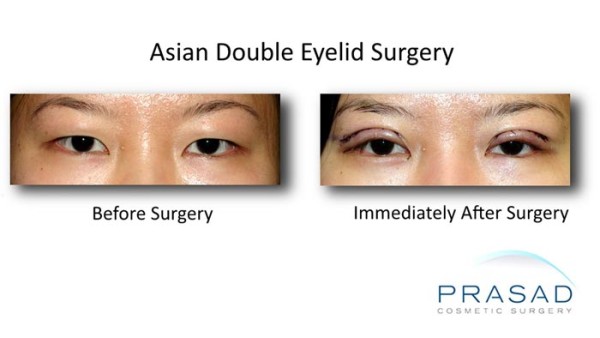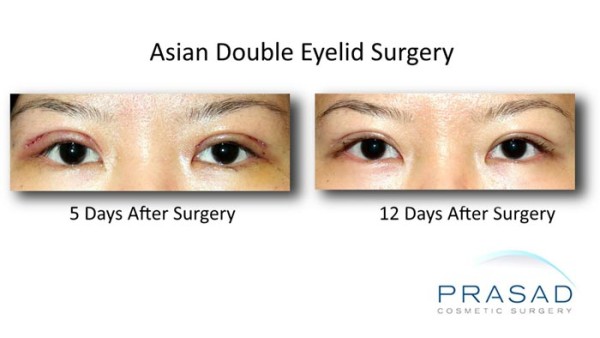 The healing process for an Asian eyelid surgery can appear to be longer than non Asian patient. Swelling between the eyelid crease and the eyelid margin can persist for months and even a year.
Factors which can affect the recovery process include allergies, sinus conditions as well as having sensitive skin. Dr. Prasad will see you throughout your recovery period to assist you during this time.
How long does double eyelid surgery result last?
The result from the blepharoplasty are long lasting. The long term appearance can be affected by your age as well as other medical and environmental factors. As with any cosmetic surgery procedures, revision surgery may be required. Dr. Prasad is committed to helping you achieve your desired results and will counsel you prior to surgery about your expected results.
Blepharoplasty or Epicanthoplasty?
There is often confusion about the best procedure to enhance your eyes. Blepharoplasty and epicanthoplasty are commonly used terms. Blepharoplasty is the medical term for eyelid surgery for both the upper and lower eyelids. In Asian patients, the aim of the upper eyelid blepharoplasty is to create a crease in the upper eyelid using different techniques.
Located in the inner corner of the eye, the epicanthal fold, also referred as "mongoloid fold", and is prevalent among the Asian population. An epicanthoplasty is a procedure to change the epicanthal fold so the inner corners of the eyes (inner canthus) is revealed. The eyelid crease can look longer and the eye can appear wider.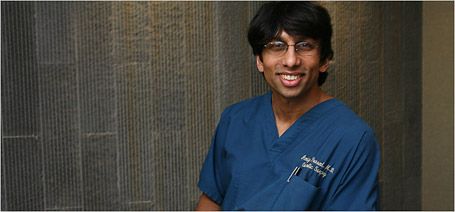 If you are considering Asian/ double eyelid surgery, you can contact us at Prasad Cosmetic Surgery in New York, at Midtown Manhattan, near Grand Central Station at (212) 265-8877 or Garden City, Long Island at (516) 742-4636
---
Frequently Asked Questions (FAQs)
Do I need Asian Eyelid surgery or Ptosis surgery?
The upper eyelid position is critical for making the eyes look more open. Creating a crease can be effective if the upper eyelid is in a good position. If the upper eyelid is low or drooping, this is a condition called "ptosis". Asian eyelid surgery can be performed at the same time as ptosis surgery.
Can Asian blepharoplasty be combined with other procedures ?
Yes, the procedure can be combined with a canthoplasty, epicanthoplasty, ptosis surgery and under eye bags surgery (lower eyelid blepharoplasty).
What is the difference between Almond eye surgery and Asian eyelid surgery?
The Almond eye surgery is a customized procedure which can be performed in non-asian patient to create a natural looking almond shaped eye. Similar procedures can be performed for Asian patients to create an attractive shape.
If interested about the Almond eye surgery, refer to our Almond eye surgery page
How much does the Asian eyelid surgery cost?
The Asian blepharoplasty is a procedure that is customized from patient to patient and may be combined with other procedure. Cost for surgery includes surgeon's fee, anesthesia fee, and facility fees.
Dr. Prasad is committed to performing surgery in the safest way at his Joint Commission Certified facilities. Contact us for a consultation to learn more details about the surgery. We do not accept health insurance.
Patient Reviews on Asian Eyelid Surgery