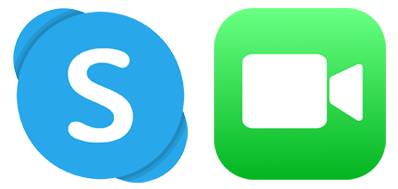 Prasad Cosmetic Surgery now offers Skype and FaceTime Virtual Consultations with our doctors. Skype is a free online webcam service that allows you to see and talk directly with a doctor through your computer, smart phone, or tablet from any location with internet access anywhere in the world! FaceTime is installed or available for free on all current iOS phones and tablets for face-to-face video conferencing from anywhere in the world.
Get Started Today!
For Skype
Create your Free Skype account and install Skype on your computer if you don't already have an account. (instructions)
Request a Skype Virtual Consultation with a Prasad Cosmetic Surgery doctor using the form below.
Add us to your Skype contact list. (instructions)
Pay the consultation fee of $200. Once you submit the form below, our patient coordinator will follow up confirming your virtual consultation appointment date/time and provide PayPal payment instructions for online payment options using Paypal or credit card.
Attend your Skype Virtual Consultation on the date/time confirmed by the patient coordinator.
For Facetime
If you have an Apple phone or tablet with and updated iOS with FaceTime currently installed, request an appointment by filling out the form below.
When you hear back from us, pay the $200 consultation fee through PayPal or with your credit card with the details we provide to you.
We will provide you an appointment schedule through email or through a call, and we will exchange personal contact information for your iOS phone or tablet.
Be ready for your Facetime call with one of our doctors at the date/time confirmed by the patient coordinator.
Our offices are open Monday through Friday 9 AM to 5 PM Eastern Standard Time. Skype Virtual Consultations are only available during our office business hours.
FAQ
How long does a Skype Virtual Consultation last?
The consultation will last up to 20 minutes.
What if I don't have a Skype account?
No problem! Sign up for a Free Skype account here.
What if I don't have FaceTime?
Facetime is automatically added to any iOS phone or tablet. If you currently don't have it on iOS phone or tablet with an updated version of iOS, you can download or update it for free on the AppStore. FaceTime is not available for Android phones.
What if my preferred appointment time isn't available?
The patient coordinator will follow up with alternate appointment times if the time you request isn't available.
Can I send photos or other files through Skype during the consultation?
Unfortunately, due to security concerns the doctor will not accept files through the Skype application. If you need to send photos or other files, the doctor will provide an email address for you to send those items to.
Which doctor will I speak with?
The doctor will be assigned base on the area(s) of interest you select on the request form below. The patient coordinator will let you know the doctor's name once they confirm your appointment.
When do I have to pay?
Your payment must be submitted at least 36 hours after the patient coordinator sends confirmation of your appointment. Any payments not received 36 hours after confirmation will cancel your appointment.
Request Your Skype Virtual Consultation Here
Disclaimer: The Skype Virtual Consultation is a service provided by the Prasad Cosmetic Surgery office. The participants in the online consultation fully understand that the information provided by the doctor is general information only and is not a substitute for an actual "in-person" consultation with the doctor that is necessary prior to any surgery. Participants in this consultation agree not hold any parties liable to the opinions given herein.