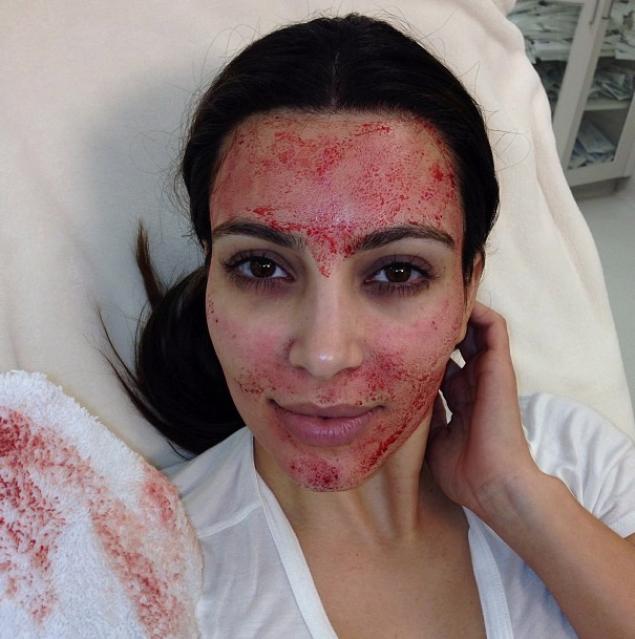 Kim Kardashian has a Vampire Facelift on camera for 'KIm and Kourtney Take Miami.'
Keeping up with the Kardashians is getting bloody ridiculous.
Attention-starved Kim K tweeted a shot of her blood-spattered face after a vampire facial, the gruesome $1,500 treatment that promises younger, firmer-looking skin.
The Vampire Facelift – trademarked by Alabama doctor Charles Runels draws blood from the patient's arm with a needle and separates the platelets into a platelet-rich plasma (PRP) using a centrifuge.
The plasma is then combined with Restylane or Juvederm, and then injected into the face to stimulate collagen production to create new skin and to remove fine lines and acne scars. The 45-minute Facelift is expected to be such a hit in Hollywood that a gift certificate for the painful procedure was included in this year's Academy Awards swag bag.
©PHOTOS: KEEPING UP WITH KIM KARDASHIAN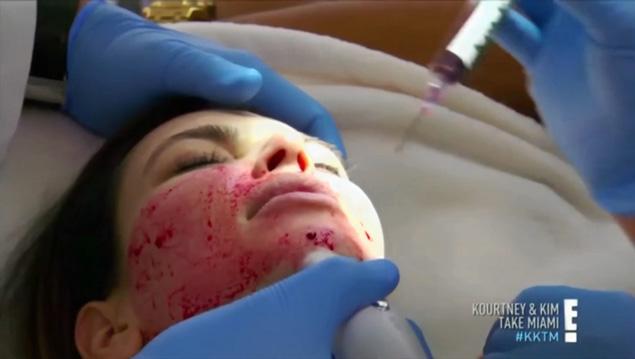 Beauty takes pain for Kim Kardashian.
Kanye West's baby mama documented the spa session on the latest episode of "Kim and Kourtney Take Miami," where she visits the Miami Institute for Age Management for the controversial treatment. "Ow, that hurts so bad!" cries the reality star in the clip as blood streams down her face.
The extreme reaction is because her treatment includes the invasive Dermapen, a device that uses nine tiny motorized needles to cause puncture wounds in the skin before applying the platelet-rich plasma mixure.
Plenty of New York women are willing to face the pain, however, for a chance to look younger. Cosmetic surgeon Amiya Prasad performs four Vampire Facelifts a week at his upper East Side practice.
"This is a more aggressive treatment than a regular facial," says Prasad, who charges around $1,200 for a 45-minute blood facial, "but it's justified because skin quality improves quite nicely." He says typically clients notice results in a couple of days that last four to six months.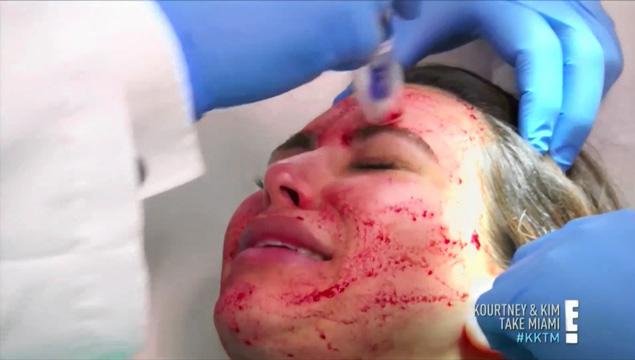 Kim Kardashian didn't take the facial quietly!
But you'll want to wait a day or two before dinner parties or meeting small children since the Dermapen causes bleeding and swelling just like Kardashian's beauty bloodbath.
"But as bad as your face may look on the day of the procedure, it's remarkable how good people can look a couple of days later," he says.
Some medi-spas claim that the reality star's blood-soaked procedure was played up for the cameras.
"It's completely absurd," says Dr. Jack Berdy, the director of SmoothMED, a walk-in Botox boutique in midtown that also offers the Vampire Facelift. He uses less-invasive injections than the Dermapen seen in the video. "You inject it like you would any other filler," he says. "You can do it on your lunch break."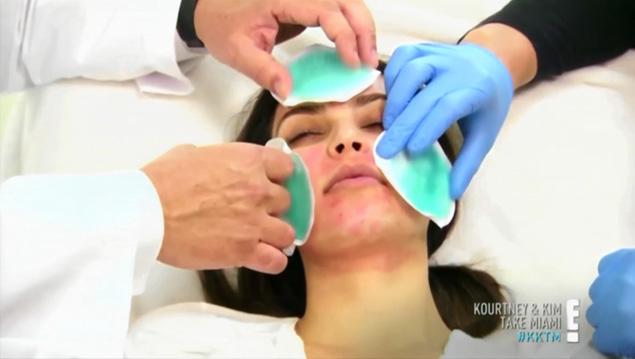 Kardashian is supposed to have a 'youthful' look after undergoing the painful procedure.
Plus, Berdy points out that the plasma mixture on Kardashian's face should be yellow not red. "Her procedure is not set in any sense of reality," he scoffs.
Dr. Anthony P. Sclafani, the director of facial plastic surgery at the New York Eye and Ear Infirmary, explains the red smears all over Kardashian's face could come from not separating the platelets completely.
"Maybe there's still some blood in it," suggests Sclafani, who's done extensive research on the competing $1,500 Selphyl system. He also injects platelet-rich plasma for facial rejuvenation, but without mixing in the added fillers. It's a simple injection, much like getting Botox or Restalyne. "No needle is fun, but most people are able to do this without any anesthesia," he says. "They shouldn't scream in pain like that."
Even Prasad, who uses the Dermapen regularly, laughed after watching Kardashian's onscreen procedure. "That looks pretty barbaric!" he says. "She's a celebrity so, of course, she deals with everything very dramatically."
He adds, "It can be done very, very gently, and I won't let what happened to Kim Kardashian happen to you."
By Nicole Lyn Pesce / NEW YORK DAILY NEWS
Read more: http://www.nydailynews.com/life-style/health/kim-kardashian-vampire-facelift-bloody-mess-article-1.1285646#ixzz2NOlISidJ