The most common cause of crown hair thinning is genetic pattern hair loss, also known as androgenetic alopecia, androgenic alopecia, or pattern baldness. Hair thinning at the crown affects both men and women, and it can appear to occur in isolation, leaving other areas of the scalp to appear less affected, or unaffected. In both men and women, there are similarities and differences in the expression of genetic pattern hair loss. I'll talk about crown hair thinning in men and women, as well as how we treat it in my practice.
I've performed hair transplant surgery throughout my career, since I first started practicing medicine. In 2011, I used a wound healing material called extracellular matrix by the company ACell to help improve hair graft survival and donor area healing. In addition to the wound healing benefits, we noticed that thinning hair in non-transplanted areas increased in number, and thickness.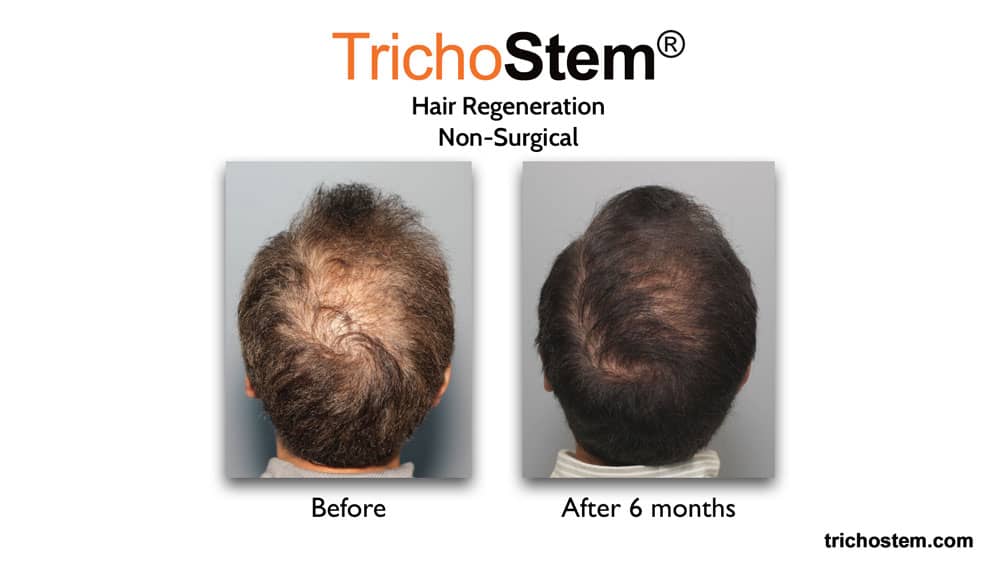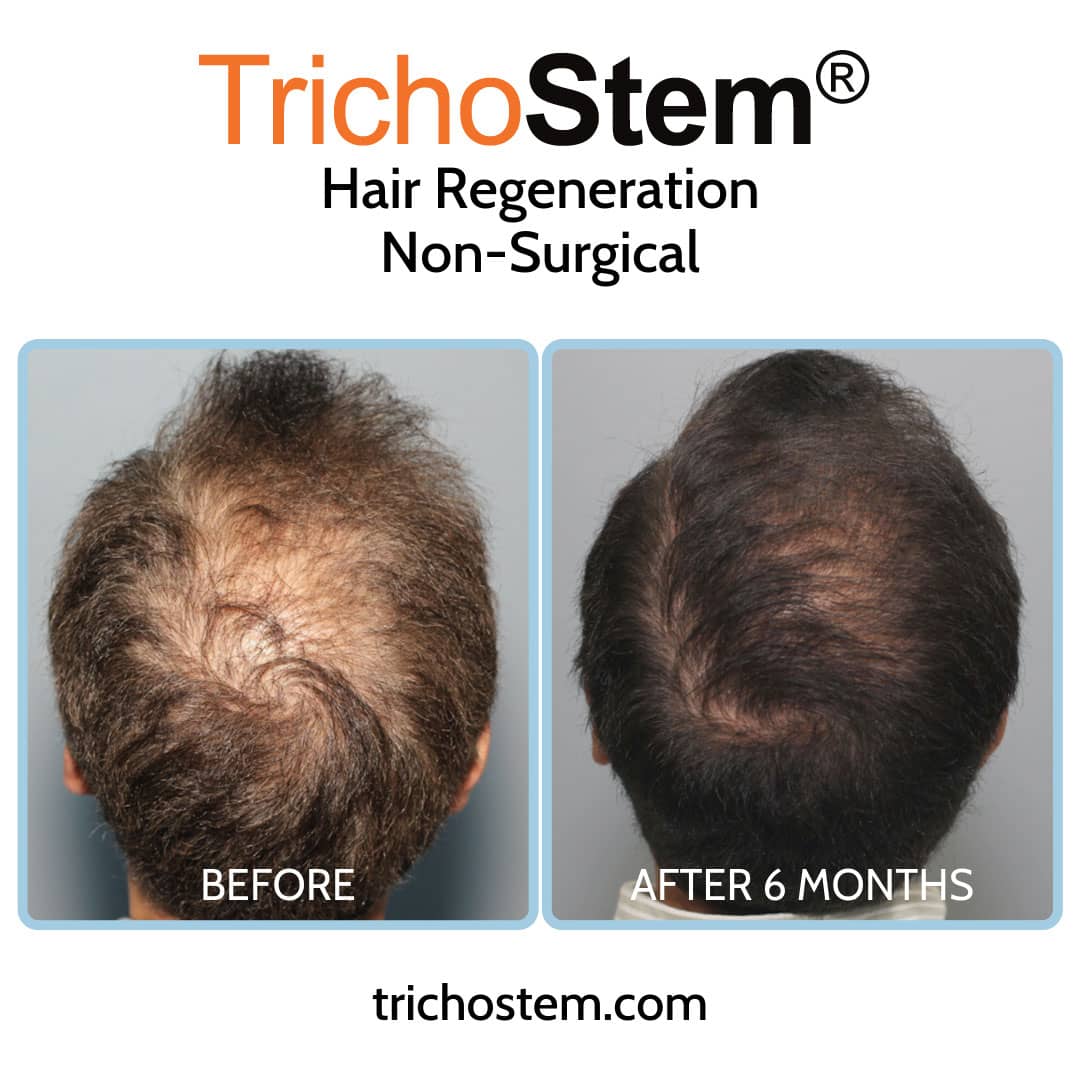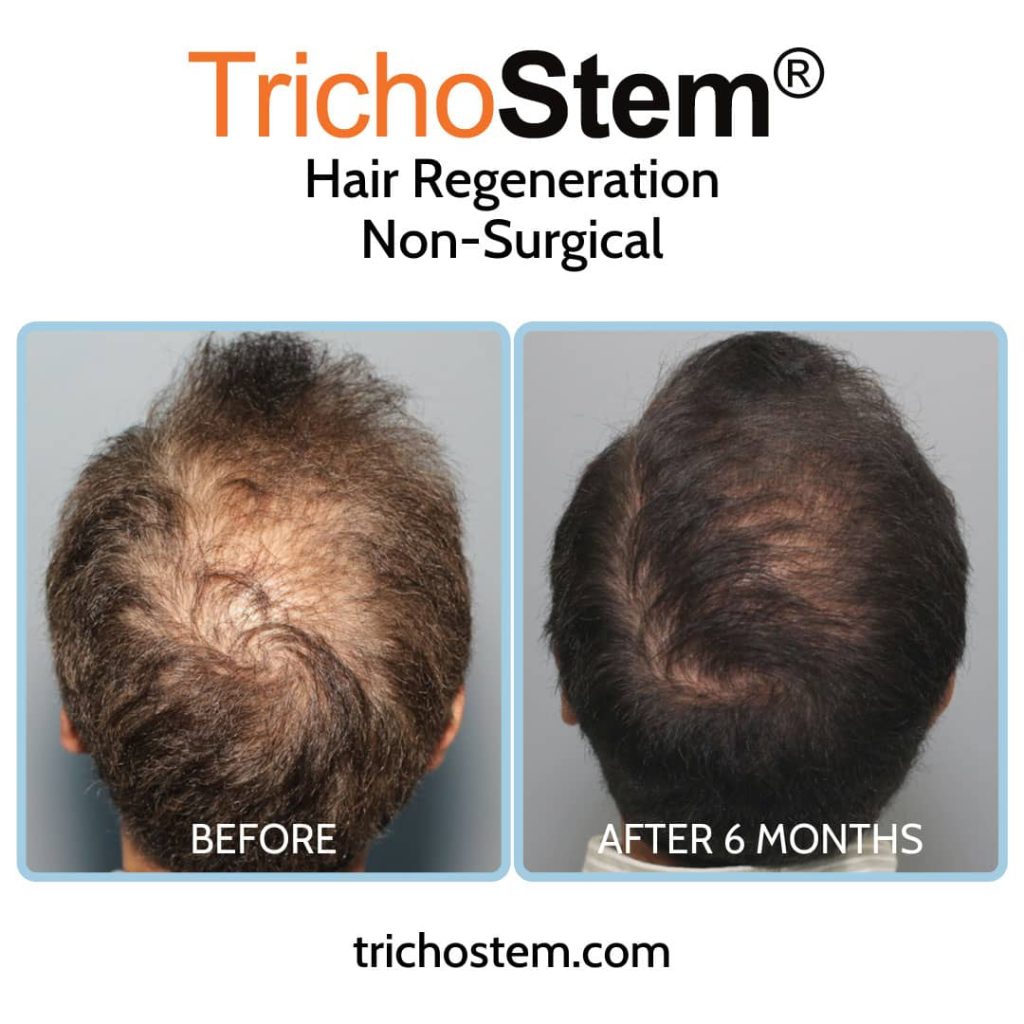 This inspired me to pursue the development of TrichoStem Hair Regeneration, a stand-alone, non-surgical treatment for genetic pattern hair loss. With the TrichoStem Hair Regeneration system, we've helped people all over the world gain more scalp coverage non-surgically since 2011.
Causes of Hair Thinning at Crown for Male and Female
Although genetics is the cause for 95% of male and female pattern hair loss there are some important differences to be aware of. Crown thinning in men tends to start in the central area, and expands from where there is whorl or a cowlick. In women, hair loss tends to be more diffuse throughout the scalp. The crown area can appear to be thinner due to a combination of the curvature of the bone structure, and the location of the cowlick.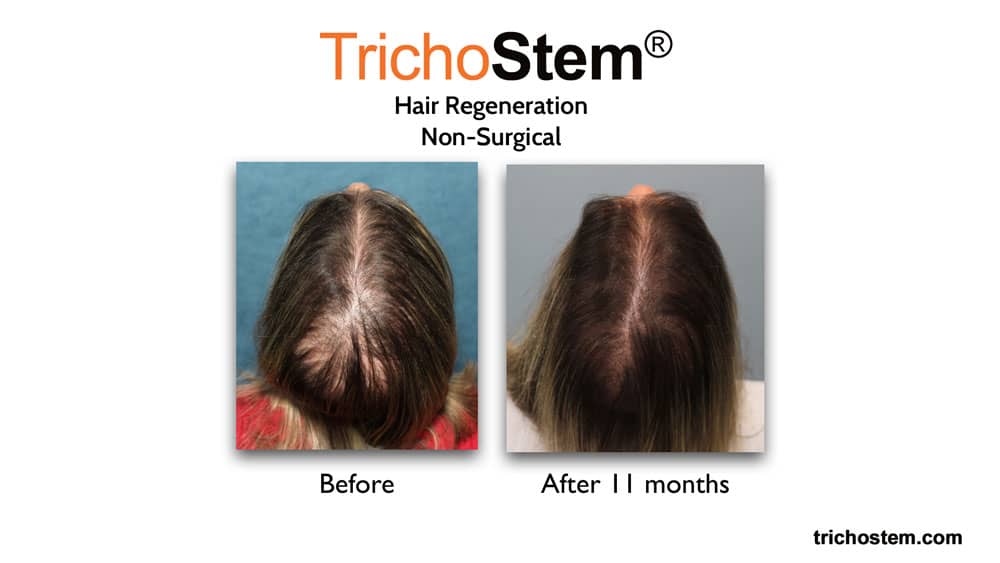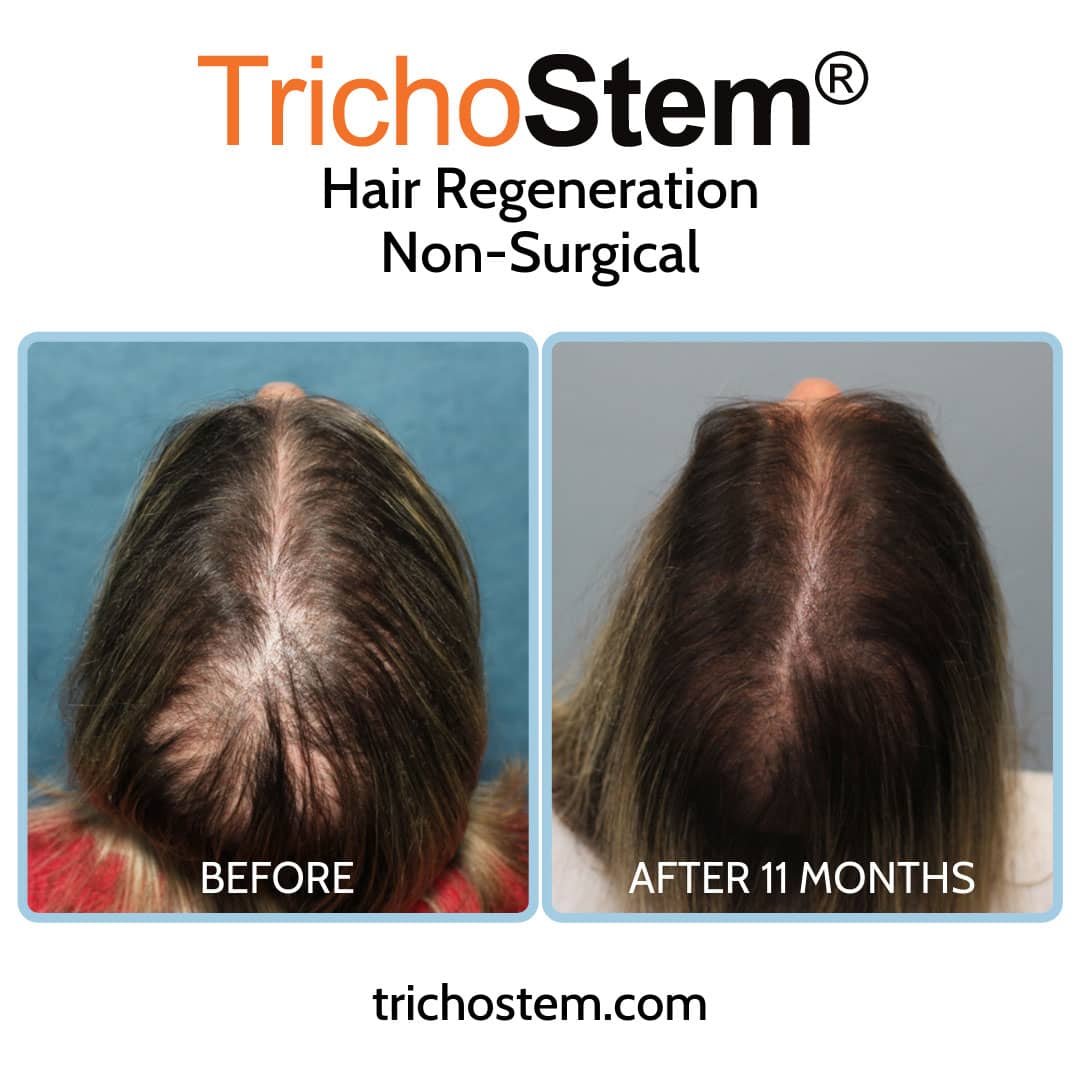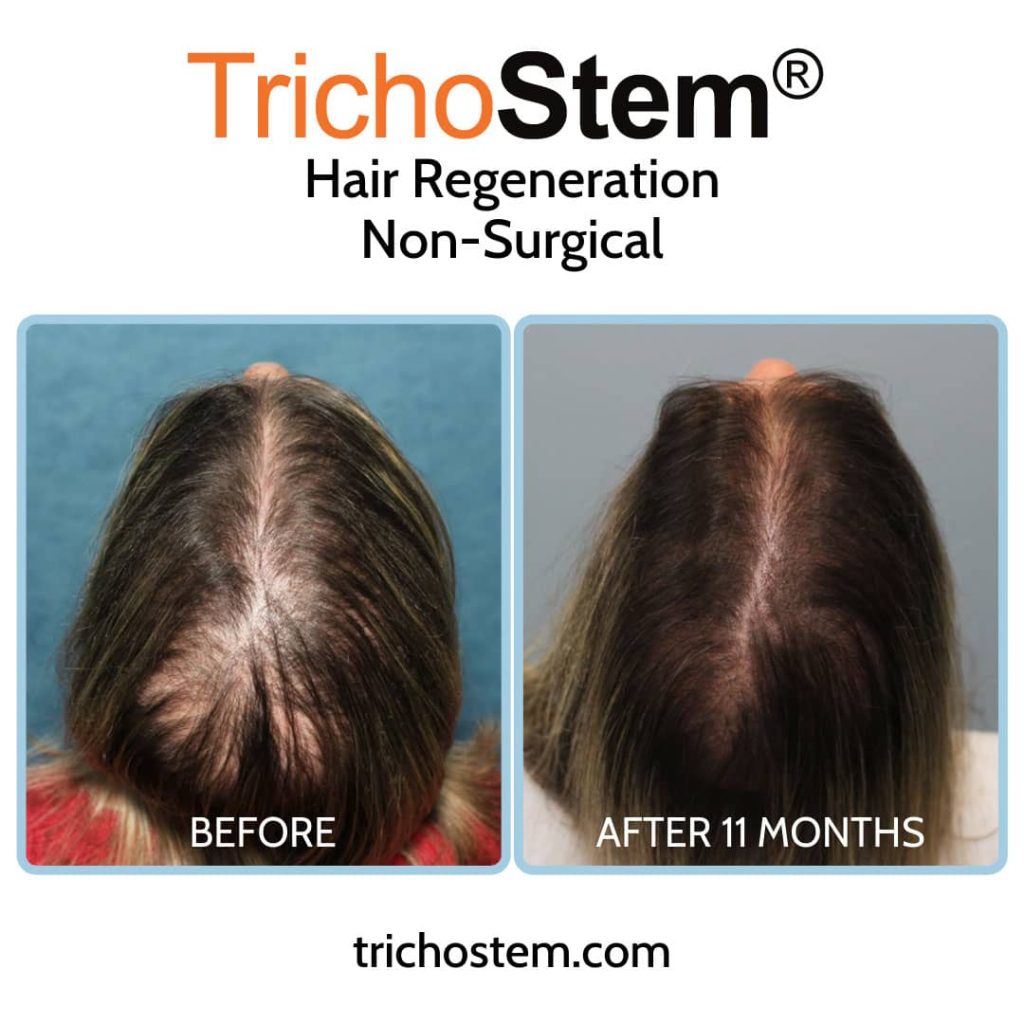 Limitations of Hair Transplantation in Treating the Crown Area
Although hair transplantation is a popular method for dealing with permanent hair loss when hair follicles have already miniaturized, there are some limitations to managing hair loss in the crown area. Since the frontal hair line and mid scalp frame your face, most hair transplant surgeons prefer to allocate the limited number of grafts available for transplantation to areas such as the hairline.
Why is there a limit to the number of transplantable grafts? This is due to the fact that the true "permanent" zone in the back of the scalp that is genetically resistant to pattern hair loss is extremely limited. Simply look at a bald man with a narrow band of hair remaining. There is a mismatch between the donor hair area and the scalp area, particularly in the crown area.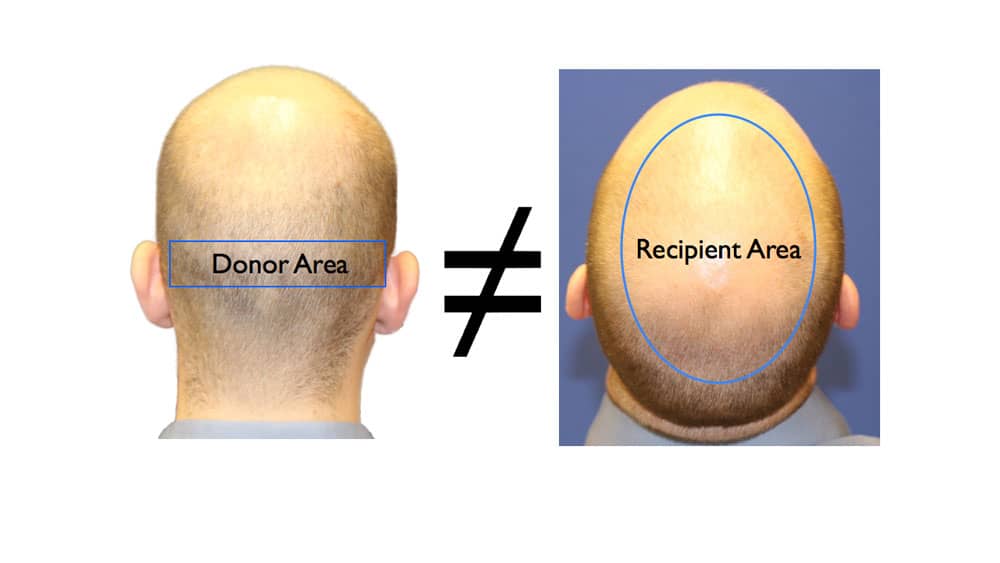 Furthermore, the density of hair that can survive transplantation is limited to only 20 grafts per square centimeter, which is a fraction of the normal hair density of 50 to 100 hairs per square centimeter. Hair thinning at crown area is also characterized by progressive miniaturization of follicles, which causes hair to thin..
Transplanting hair into the crown area can cause permanent loss of many of these miniaturizing hairs, as well as thicker native hairs due to the multiple stabs made into the scalp to implant hair grafts, which can damage nearby native hair follicles. This permanent loss of native hairs is referred to as "collateral loss".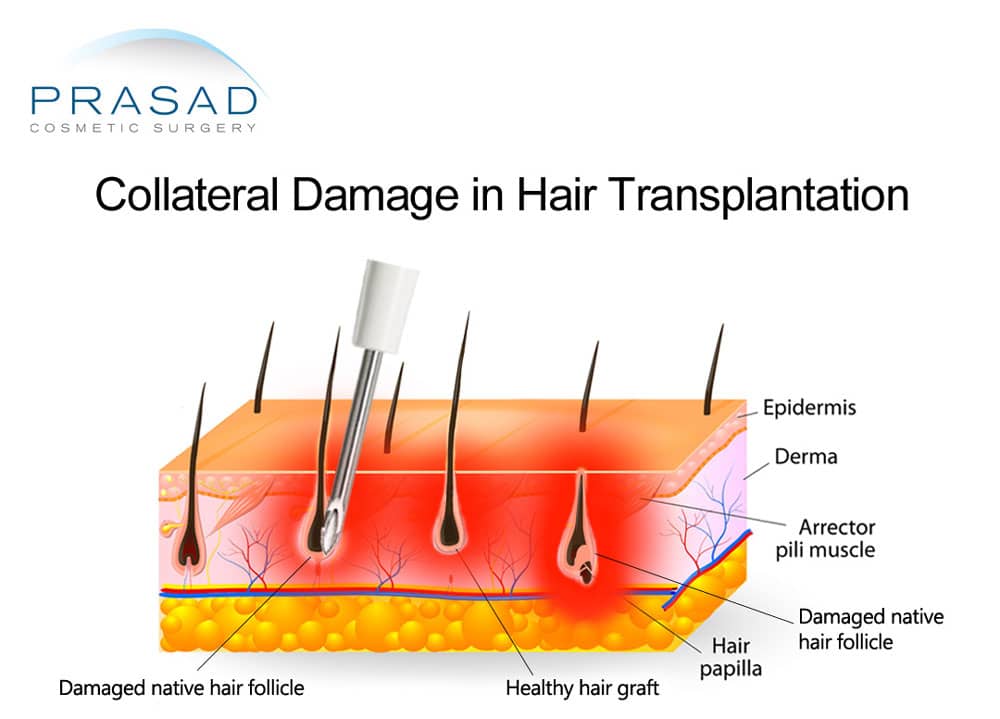 Hair Thinning at Crown Treatment for Male and Female
I was aware of these limitations as a hair transplant surgeon, and when I developed TrichoStem Hair Regeneration, I anticipated that scalp coverage could potentially exceed that of hair transplant surgery because your existing hair already exists at a higher density than can be achieved by hair transplant surgery. This occurred as expected, and we are now assisting men and women in improving crown coverage without surgery. Furthermore, because we work with your natural hair, crown coverage in our patients appears natural, as opposed to the sparse and unnatural doll's hair appearance typical of crown hair transplant.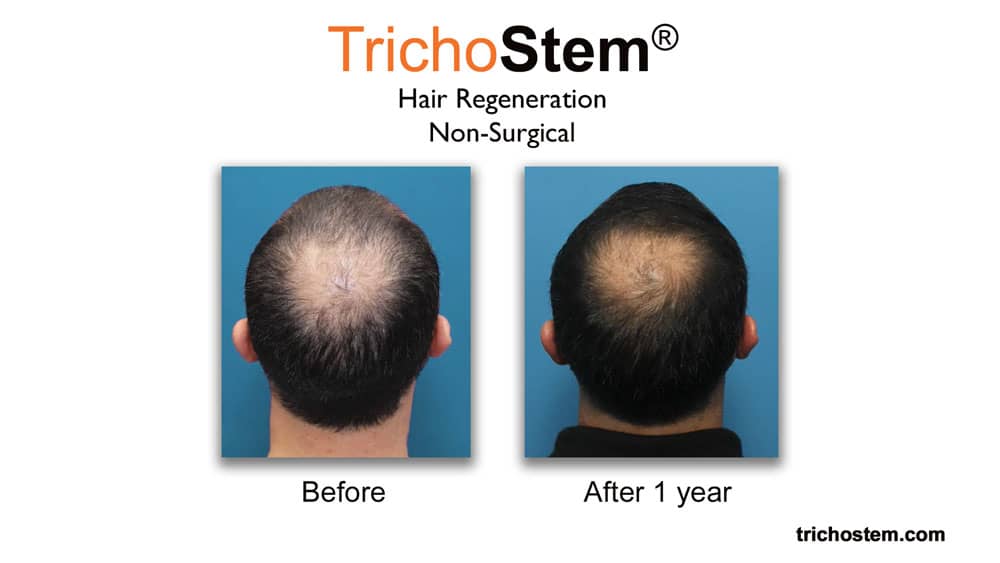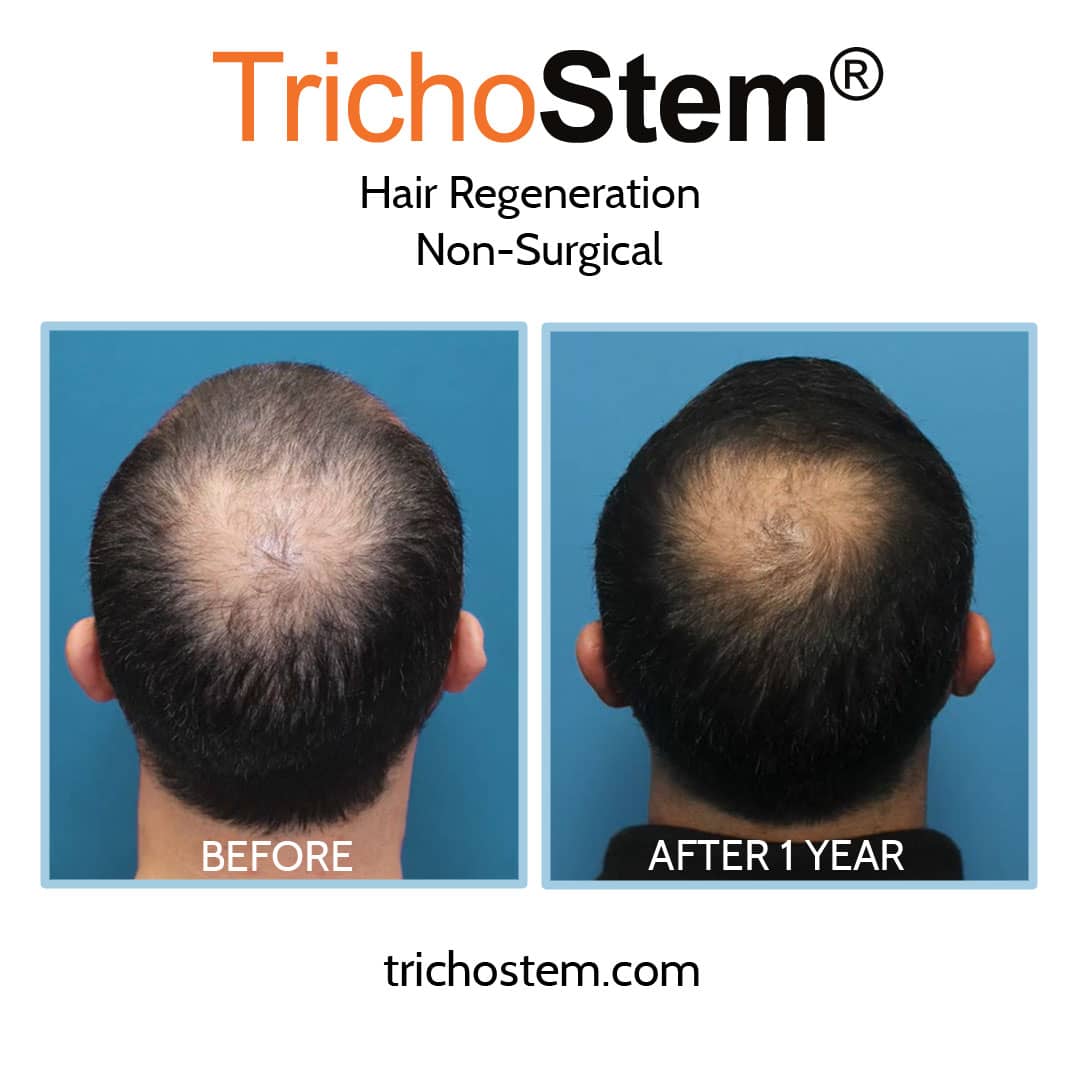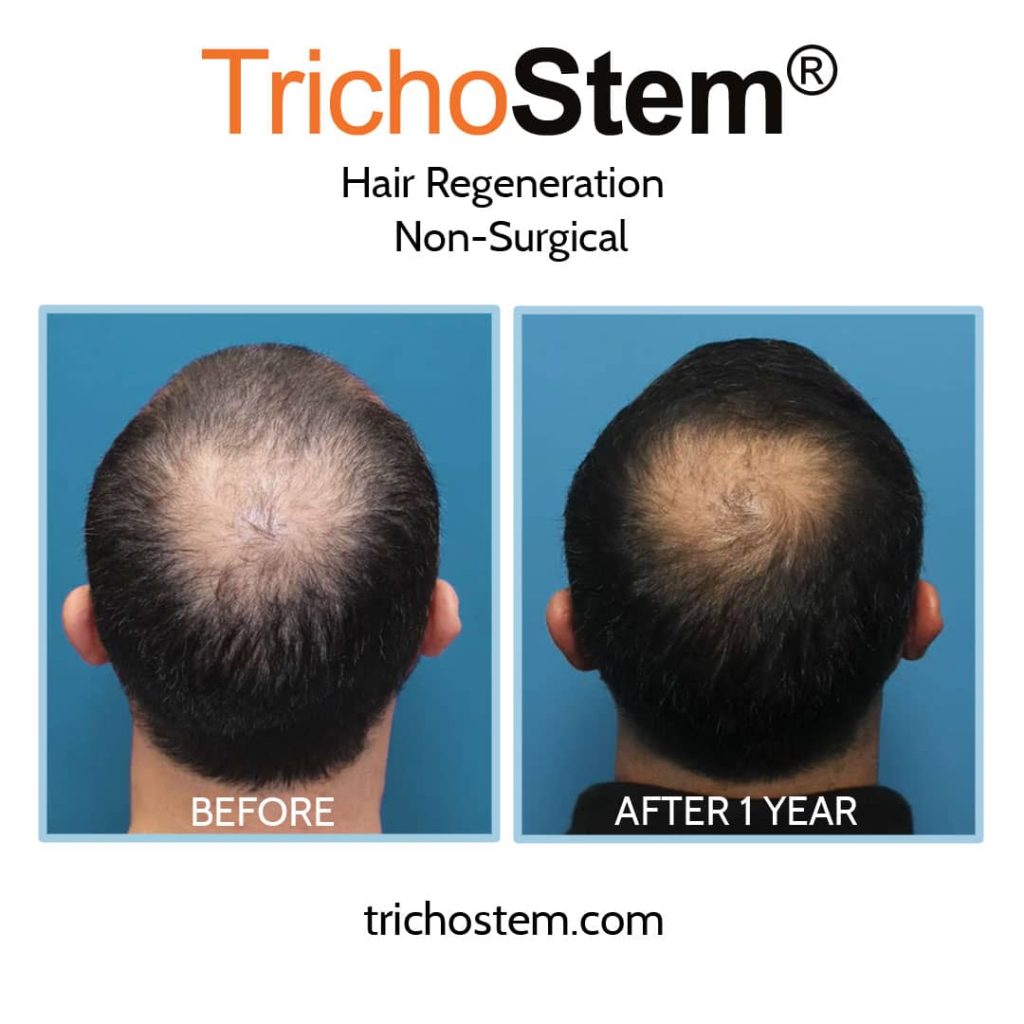 The benefits of the TrichoStem Hair Regeneration treatment have been observed to last for 3-5 years or longer with only 1-2 treatment sessions, with the second treatment spaced 15-24 months after the first. Additional medical therapy, such as DHT-blockers like finasteride for men, and hormonal management for women, can help extend the life of your TrichoStem Hair Regeneration treatment. Although hair loss cannot be reversed, it can be managed. The crown area can be optimally managed because the hair in this area is frequently thinning, but not yet completely lost. Men's crown thinning is frequently accompanied by thinning in the frontal-temporal area, and the mid scalp.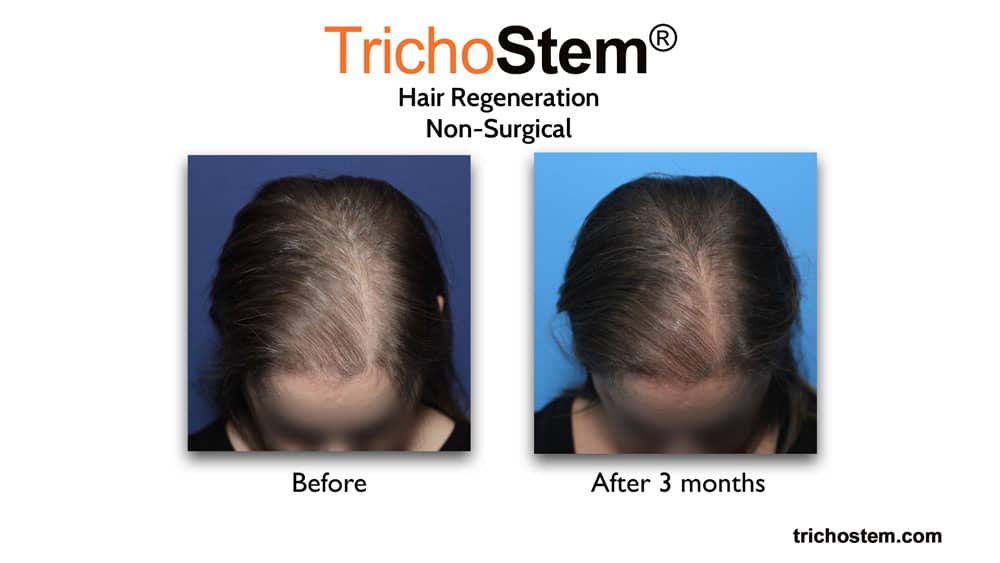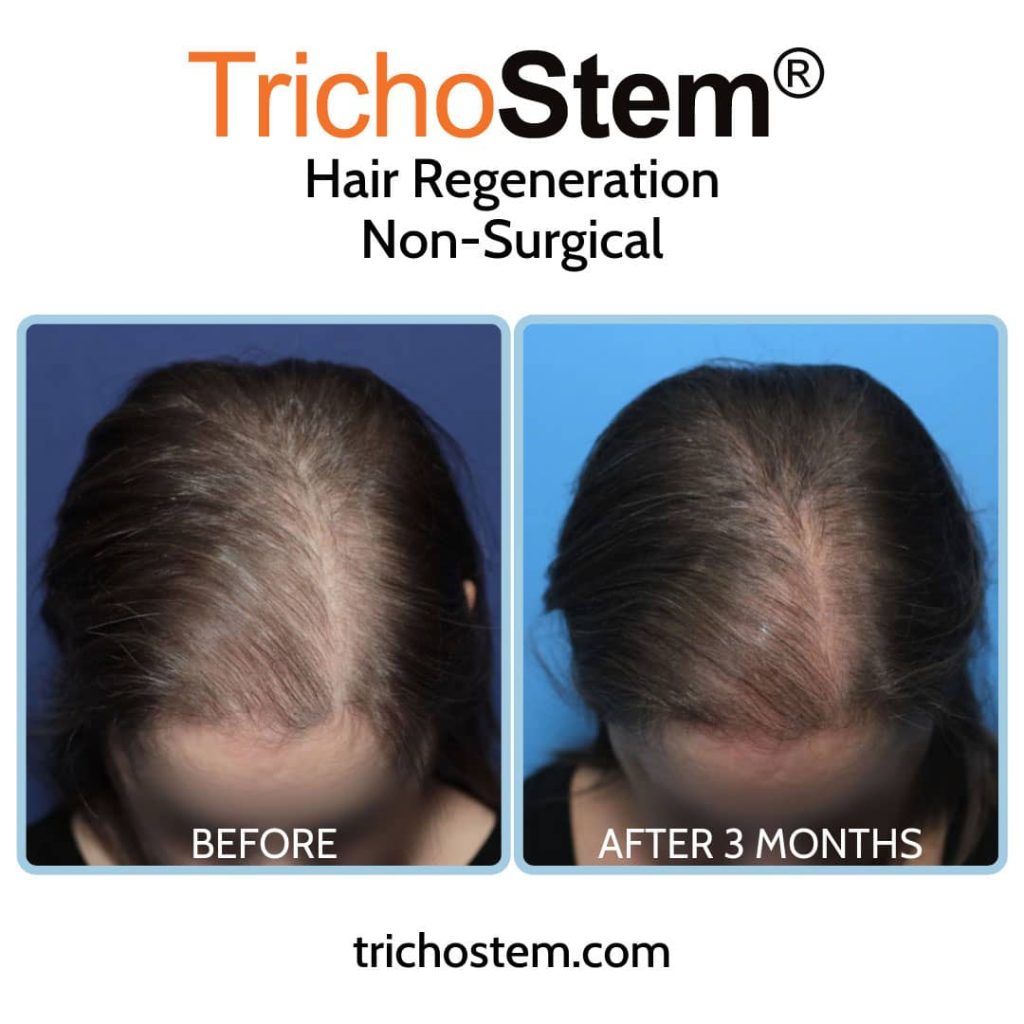 This means that treatment does not have to be limited to the more visible area, but can be applied to the entire scalp, resulting in greater overall scalp coverage. This is especially important in women because hair thinning is typically distributed throughout the scalp.
I hope this information from my experience was useful to you. If you'd like recommendations for your specific situation, please fill-up the form below or call our offices at (212) 265-8877 for Manhattan, New York City; (516) 742-4636 Garden City, Long Island; or (703) 356-1336 for Vienna, Virginia.