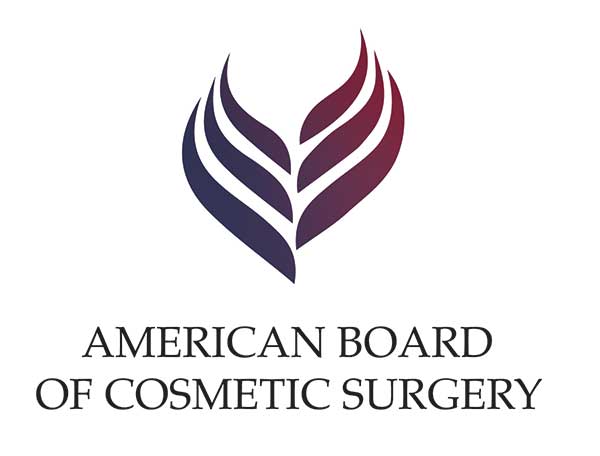 Dr. Amiya Prasad is a featured Diplomate and Board of Trustees member of the American Board of Cosmetic Surgery
1. What made you decide to specialize specifically in cosmetic surgery?
"During my fellowship in oculoplastic surgery, I particularly enjoyed helping people with their cosmetic concerns. I also recognized that patients with functional problems requiring reconstructive surgery were also very concerned about their cosmetic results. This awareness prompted me to immerse myself into learning and expanding my knowledge and training in cosmetic surgery. My golden rule is to treat every patient as if they were family. This means that I'm committed to achieve the highest level of expertise perform the procedures my patients need safely and predictably. I found that no other professional organization has this level of focus on excellence in cosmetic surgery through training, testing, and continuing education than the American Board of Cosmetic Surgery. Your education doesn't end with training. Having peers and mentors in ABCS has been invaluable for my patients and myself. Being in practice for more than 20 years, the opportunity to help people look better and feel more confident is something I am excited about every day."
"The opportunity to help people look better and feel more confident is something I am excited about every day."
Dr. Amiya Prasad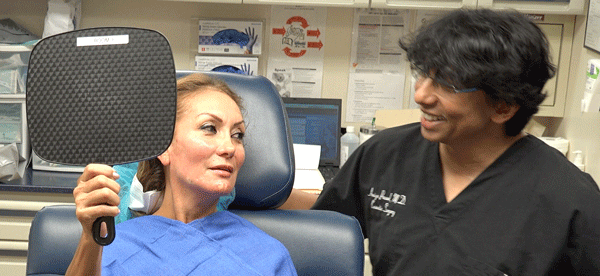 2. Can you share a patient story that really touched you?
"Every patient's story is unique. I'm moved and inspired by their stories everyday. People come in for a wide range of reasons. I'm particularly inspired by personal stories where the patient overcame challenges in their lives and are now taking time to care of themselves. Cosmetic Surgery is often perceived and portrayed as being a frivolous indulgence for dysfunctional vanity. This has not been my experience. My patients are the same people you interact with in all aspects of your everyday life. They work hard and they want to look better. It's that simple. One patient who comes to mind is a remarkable lady who came in several years ago and wanted to improve her facial appearance. I performed facelift surgery for her, which went very well. She was so happy with her appearance that she entered the Miss New York Senior America Pageant and she did very well. She even told her story on a video which is now on YouTube. By helping her look better, I helped her enjoy her life at a whole new level. That's really great."
The Decision I'm Rose Scalia, I'm 63 years old, I'll be 64 in April. I've worked in the real estate industry most of my life in human resources. I'm also an adjunct professor in New York University. And I did some research prior to coming to Dr. Prasad. I looked into those past facelifts. The facelifts that I've found, a lot of pressure when they needed to make the sale. You never really get to meet your surgeon who is basically assigned to you on your surgery day and I knew then I've wanted to meet my surgeon. I wanted to know who was doing my face. Your face is your cover and that's very important to me. So, I did some research and I found Dr. Prasad and actually through my hair dresser, a friend of mine who had her eyes done. So networking was key to me. And knowing the best who can do the best and really listen to you. I decided, well, I'm going to come to Dr. Prasad for the consultation. So I needed to tell you about part of it. I was welcomed to an office which I just aesthetically distinguished and pleasant. And I met with Nicole, the receptionist who made me feel quite welcomed which was very important in the welcoming process. And then I was preceded with Anya who would go over the details and what was needed and how we would proceed and meet with Dr. Prasad. Dr. Prasad came in and my first impression is a smile. A smile is so welcoming and it makes you feel warm and greeted and caring. And so I knew then that that was the first thing that I liked about Dr. Prasad. He asked me what I would like to do. And I said, well, I precede myself as having this tired look. And I actually just want to get that tired look and make myself, again, match my inner energy that I had. So what I found what, which was very important to me, is that when you have a doctor that listens to you, takes time to listen to you which is extremely important for me. Most importantly, he provides options: maybe you do need something else, maybe you don't need something else. But those options are important and what he sees within your face. So, given the fact that he has just wonderful platter of credentials, board certified, the artistry in him. And I've even know that he studied art. He can precede with style and looking at the person's face and really doing such a unique job or work or whatever it is that makes you unique and he looks at something in your face that perhaps can be enhanced. You know when I had the wattle and so forth, it just made me feel that the traditional approach to surgery is wonderful and I'm not negating that. But the personalization that I had and I felt whatever treatment and what I received and the education from Dr. Prasad elevated us to the next level because of his artful insight. That impressed me the most and I decided to put myself in the hands of Dr. Prasad and his team. The Experience My fear was not of the surgery but it was fear of the anesthesia that they would use. I did not know what they would use. And when they explained to me that it was the anesthesia or the sedation really of a colonoscopy then I understood for those of you who may have had a colonoscopy. It's a very light sedation. They give a few pills or medication to just make you feel calmer and it works. I was just very calm. I wanted to actually take a nap and they bring to the operating room and you lie down and you're so comfortable. They give you the warmth and everything you need and they start to tell you the process. And by that time, you're almost going to a nap and when the sedation was applied which was extremely light, I was pleasantly pleased. I believe the surgery took possibly about 2 hours and he takes his time with the prep, the surgery and the post. The Results Everybody expects and the expectations are: is there great pain? What do you feel? How do you feel? I need to be bluntly honest. I woke up, I was laughing with the wonderful nurses. Jeff and Gloria who take very good care of you, are very attentive and when I woke up, I even asked was it over. That's how much I really didn't feel a thing. When I did feel, was a just a soreness around the ears, a soreness not even pain. If you follow Dr. Prasad's orders and what you need to do after the surgery, you will be absolutely fine. But I walked out, I was capable of walking out of my own but he had his staff walk me out which was so kind. And then, when I went back on a Sunday, which he took his time and out his family time to remove the bandage, I was pleasantly surprise. He always mentioned that there could be bruising. There was slight bruising. The stitches were so tiny that they were behind the ear that you can't even see them. You need to follow the directions, keep them clean. And if you follow those directions, the outcome is quite amazing. The Pageant Well, it's been one year since I underwent facial rejuvenation with you Dr. Prasad and your professional team who make feel so comfortable one year ago. And I was looking tired and that's the reason why I chose to do facial rejuvenation because I didn't want that tired outlook especially when I knew I was retiring and close to retirement. Just four months ago, at the age of 64, I retired and I call this my rejuvenation phase. A time to go out and accomplish opportunities you would never think or have time to think when you work. So, on April 27 of this year, I entered the Miss New York Senior America Pageant. Well, I won Miss Congeniality. My platform was very important to me. My platform was "Make your age work for you". And we need to be at the top of whatever we do and look best in all situations. I really need to say I want to thank you Dr. Prasad and your professional team and helping make my age work for me.
3. How do you see cosmetic surgery evolving? What role do you hope to play in this evolution?
"I see the role of cosmetic surgery as being a part of a comprehensive strategy for optimal health, which goes with optimal appearance regardless of your age. For example, I perform cosmetic eyelid surgery every day for problems such as hooded upper eyelids and under eye bags in addition to specialized oculoplastic procedures such as ptosis surgery and revision eyelid surgery. I further help my patients optimize their appearance with non-surgical procedures including injectable fillers, lasers, and PRP. I also spend a lot of time discussing the role of diet, exercise and supplements as well as proper skin care. As Board-Certified Cosmetic Surgeons, my colleagues and I are in an ideal position to provide this type of comprehensive approach with unparalleled expertise. In my experience, non-surgeons and non-physicians are less likely to recommend a surgical option to their patients since they don't have training or expertise in Cosmetic Surgery. I feel that in terms of the evolution of cosmetic surgery as a discipline and the aesthetic field as a whole, we in the American Board of Cosmetic Surgery have a very important role in educating and guiding consumers to help them understand the risks, benefits and options of any aesthetic procedure they may be considering. As someone who's been in this field for over 20 years, I feel it's my duty to share my expertise and experience to advance this mission of educating the public."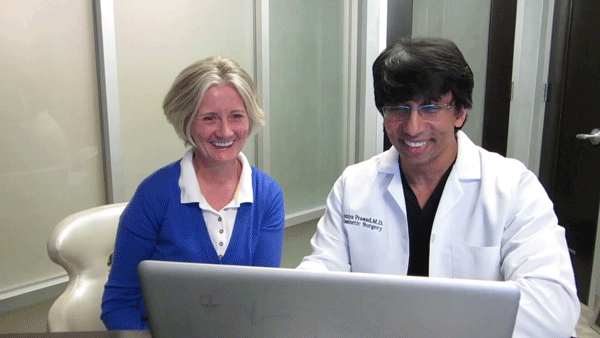 Dr. Prasad discusses the role of diet, exercise, supplements, and skin care with his patients, in addition to cosmetic procedures.
4. Do you have any pearls of wisdom that you would like to share with other ABCS certified surgeons?
"The Internet and social media platforms have made information and misinformation easy to disseminate. Companies and paid medical consultants saturate consumers with misleading claims. This can leave highly trained doctors such as ABCS surgeons feeling frustrated in not being able to share their knowledge to help consumers with unbiased perspective. In my opinion, the worst thing you can do is shrug your shoulders and do nothing. My advice is to make your professional voice heard through the same platforms that people go on regularly. People want honest information. If you don't share your expertise, the general public will only know what they are exposed to. As is the case for any group where selection is based on very high standards, The American Board of Cosmetic Surgery is a relatively small group. You can help the public, yourself and our organization by actively participating in this conversation."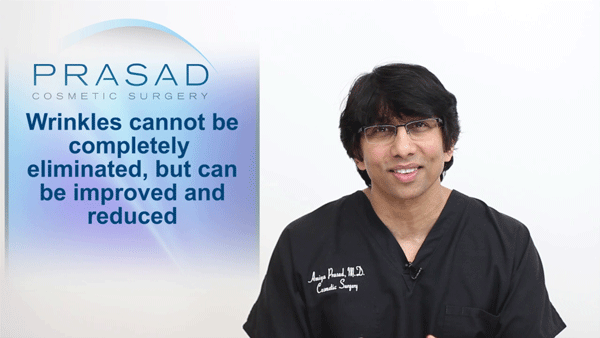 With the internet and social media making information and misinformation easy to disseminate, ABCS surgeons can help in sharing their knowledge with the public.
5. If you were to have a career in something other than medicine what would that be?
"Doing this type of work where I make a big difference in people's lives through creative problem solving and working with my hands makes being a Cosmetic Surgeon the perfect career for me. I particularly enjoy listening to every patient's story and learning about who they are and what motivates them to want to look better. I find myself thinking a lot about each patient's journey and my role in their life story. This love for story combined with my interests in drawing, photography and video production naturally leads me to say that a career as a filmmaker or director would probably suit me. If being a filmmaker was my career, I probably would create films or a binge-worthy series on Netflix about Cosmetic Surgery."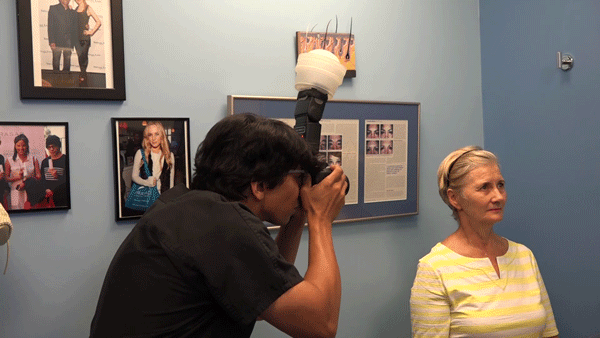 Dr. Prasad's passion for photography and filmmaking help him provide better service for his patients, and make him stand out among other cosmetic surgeons.
"I would like to thank the American Board of Cosmetic Surgery for featuring me to in our professional newsletter. I hope that my interview helps our fellow ABCS members and the general public gain some knowledge, perspectives and insight about me as a Board Certified Cosmetic Surgeon. I hope that my experience of being in practice for over 20 years will help our fellow members and anyone interested in learning more about The American Board of Cosmetic Surgery. So, take a look and read the interview online and you can also watch the video of the interview. Please feel free to ask questions. Once again, I want to say thank you to The American Board of Cosmetic Surgery for this opportunity."