Eye Bags – Lower Eyelid Surgery
Patients come from around the world to Prasad Cosmetic Surgery seeking lower eyelid surgery to improve the appearance of tired looking under eye bags. Eye lift surgery or Blepharoplasty  of the lower eyelid is performed to address under eye bags, loose skin and sagging tissue supporting the lower eye area.
Dr. Amiya Prasad, a leading oculofacial plastic surgeon, has performed eyelid surgery for more than 20 years and is considered one of the best in his field. People often seek lower blepharoplasty because their friends and family tell them they look tired because they have puffy eyes or sagging lower eyelids.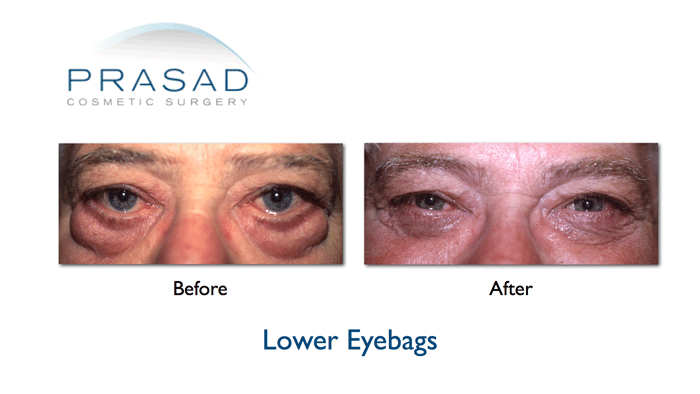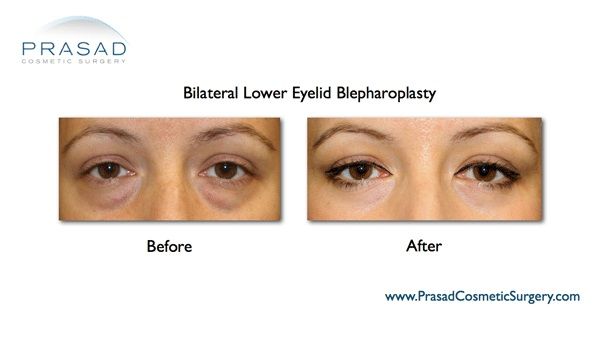 What causes bags under eyes?
Puffy eyes – under eye bags are often misinterpreted as being caused by fatigue or allergies. The bags that are seen under the eyes that remain unrelated to sleep or allergies are due to lower eyelid fat prolapse. The fat that prolapses is referred to as orbital fat. This is based on the fact that the eye sits in a space called the orbit and this space has fat in compartments. To improve the appearance of the bags under the eyes, the fat may be removed, repositioned and sculpted.
Loose Skin – Many people are concerned that after the under eye bags are removed from under the eyes, there will be loose skin. Depending on the support of the lower eyelid, loose skin can be addressed at the same time. Often, the skin that accommodated the eye bags/fat pockets is tightened after surgery by the orbicularis oculi muscle. The orbicularis oculi muscle contracts like a belt and tightens loose skin.
Eyelid Support – People often referred to Dr. Prasad because of unrecognized problems with lower eyelid support. Properly restoring lower eyelid support requires several different specialized techniques. In addition, the support structures of the eyelid can be shaped in a way that can create a brighter appearance to the eyes.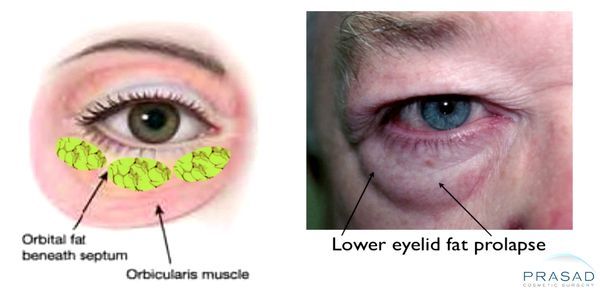 Lower eyelid anatomy
The eye sits in a space in the skull called the orbit. A sheet of tissue extends from the rim of the orbit to the eyelid called the orbital septum. Around the eyes and behind the orbital septum is the orbital fat. Orbital fat provides a cushion for the eyeball in the orbit.
The eyes can appear puffy from bulging orbital fat due to factors such as increase in orbital fat and thinning of the orbital septum. Unfortunately, this type of bulging can be inherited and may start as early as adolescence.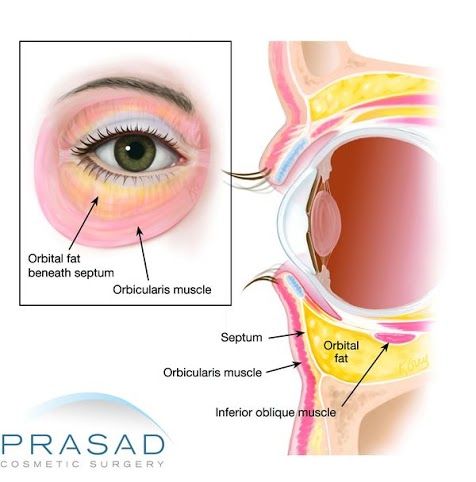 A common observation is that people with bags under the eyes complain about their eyes appearing more puffy in the morning. This is related to the fact that the orbital fat contains water and after being reclined all night, the eyelids may appear at their puffiest. Typically, over the course of the day, gravity and circulation helps absorb some of this fluid.
The delicate eye tissue becomes increasingly loose through the years and the puffy bags become more prominent. Fluid volume related to allergies and sleep can further loosen the eyelid tissue and worsen the tired and aged appearance of the eyes.
If loose skin is determined to be an issue during the physical exam prior to surgery, Dr. Prasad may choose to do a skin pinch while removing, reducing, and sculpting lower eyelid fat from the inside of the eyelid called a transconjunctival blepharoplasty where no external incision is made. In cases where excess eyelid skin needs to be removed and the orbicularis muscle is sagging, Dr. Prasad will perform a transcutaneous blepharoplasty where an external incision is made.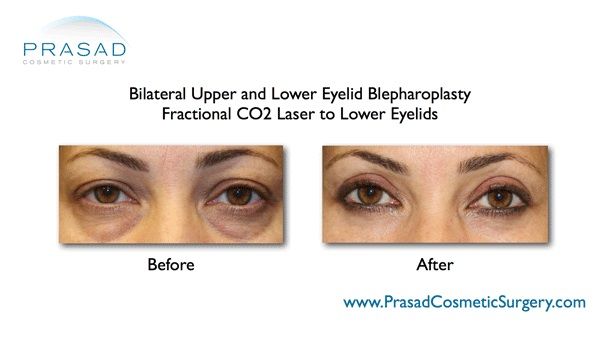 Candidate for lower eyelid surgery
You may be a candidate for lower eyelid blepharoplasty if:
You always looked tired, even with plenty of sleep
Your under eye bags are present throughout the day
You have excess skin around the eyes
You notice that applying makeup is becoming more difficult
Your friends or family keep asking you if you're tired or if you're getting enough sleep
Dr. Prasad spends a lot of time with every consultation. During your consultation at Prasad Cosmetic Surgery, a special blepharoplasty examination will be conducted. The goal is to properly classify your unique features based on gender, age, ethnic background and skin condition. This will allow Dr Prasad to select the best approach for treating the under eye bags and improving the skin of the lower eyelids.
A few medical conditions make blepharoplasty more risky, including: thyroid problems such as hypothyroidism and Graves' disease, dry eye or insufficient tears, high blood pressure or other circulatory disorders, cardiovascular disease, and diabetes. Being an oculofacial plastic surgeon with training in ophthalmology, Dr Prasad will advise you and discuss optimal treatments and surgical strategies to best maintain healthy eyes.
The benefits of having "eye bags" surgery
Having lower eyelid blepharoplasty to treat eye bags, loose skin and tissues under the eyes can have a dramatic effect on the overall aesthetic of your face. You will appear less tired with a fresh look, by addressing the eye bags (fat pockets). With the sagging eyelids being toned and eye bags removed, your eyes can look many years younger.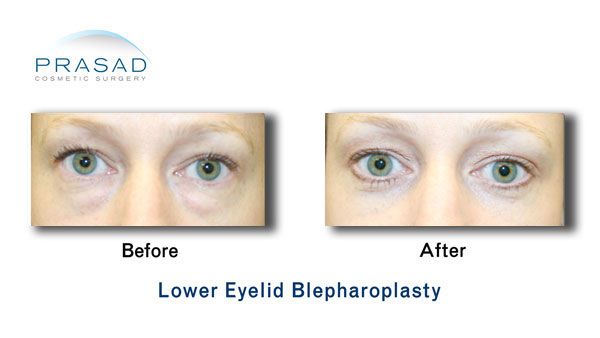 What is a lower eyelid surgery?
To address the under eye bags, loose skin and sagginess of the lower eyelid, lower eyelid surgery also known as blepharoplasty is performed.
There are different surgical techniques a surgeon can use to rejuvenate the lower eyelids, but the overall approach usually involves removing fat (or sculpting and redistributing the fat or septum) as well as removing excess skin and sagging muscle. Depending on the technique used, surgery time varies.
The two most common eyelid surgery approaches
Transcutaneous Approach
– external incision in lower eyelid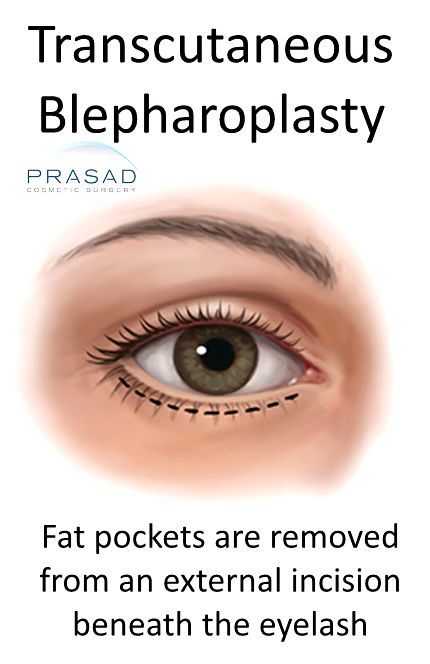 Many surgeons commonly make an external incision just below the eyelashes when performing lower blepharoplasty known as the transcutaneous incision which means "through the skin".  This approach can be advantageous if there is sagging of the skin and the orbicularis oculi muscle (the muscle which supports the eyelid). A well placed incision can be virtually invisible when fully healed. Patients with darker skin may experience darker pigmentation (hyperpigmentation) along the incision line.
This approach often involves making incisions and flaps of the orbicularis oculi muscle. The delicate orbicularis oculi muscle is very important as it supports the lower eyelid like a hammock.  If the integrity of the muscle is compromised, the shape of the eye can be altered.
This approach commonly used by general plastic surgeons who don't specialize or have enough experience in eyelid surgery often results in "rounding", "scleral show", or pulling down of the lower eyelids called lower eyelid retraction. This type of surgery should be performed with an understanding of other eyelid procedures to preserve the natural shape of the eye.
Transconjunctival Approach
– Incision in the Inside of the eyelid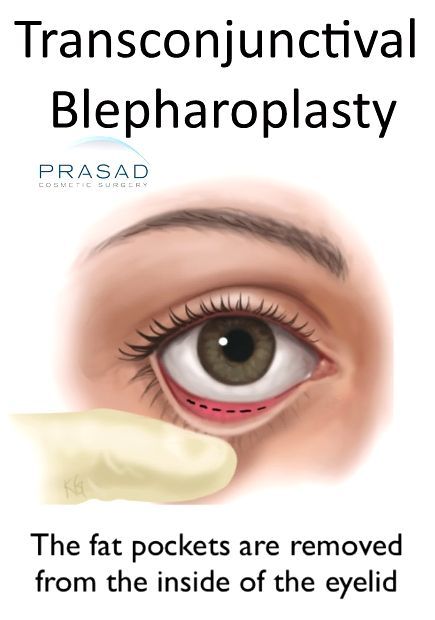 An approach which requires knowledge of the delicate structures close to the eye, so it mostly performed by eyelid surgery specialists like Dr Prasad. He uses the internal incision known as the transconjunctival approach (from inside the eyelid) when he performs lower eyelid blepharoplasty. This approach has several benefits:
No external incision so signs of surgery are unnoticeable. Even a close up eye exam will not reveal signs of surgery.
The shape of the eye is typically better preserved as the orbicularis oculi muscle integrity is preserved.
Minimal trauma to the fragile support network of the eyelid structure.
The Lateral Canthus and Lateral Canthal Tendon
The outer corner or "lateral canthus" of the eye is critical for eye support and shape. Often overlooked by general plastic surgeons, the outer corners become rounded instead of angular after lower eyelid blepharoplasty. Advanced techniques to restore support and aesthetically enhance the outer corners of the eyes through internal supported by the lateral canthal tendon is a specialty of Oculoplastic surgeon Dr. Amiya Prasad.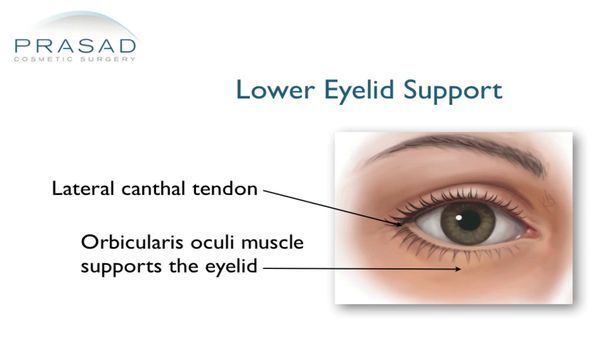 Many people who consider lower eyelid surgery also choose to have upper eyelid blepharoplasty – see our Upper eyelid surgery page.
Anesthesia
Oculoplastic surgeon Dr. Amiya Prasad developed his own approach to IV sedation combined with local anesthesia called LITE™ anesthesia. General anesthesia where a patient is paralyzed, and a tube is placed in the throat connected to a respirator is avoided. Local anesthesia allows patients to recover faster from all types of cosmetic surgery (with the exception of complex rhinoplasties/nose jobs) and go back to normal life quickly. Dr. Prasad's patients have benefited with a comfortable and quick recovery with his unique anesthesia method.
Recovery & Follow up
Following eye bag surgery, minimal swelling and some bruising are typical, which diminishes anywhere from within a week to ten days. Most people go back to work in one week. You will receive specific instructions for your recovery and typically have a follow up with Dr. Prasad in about one week.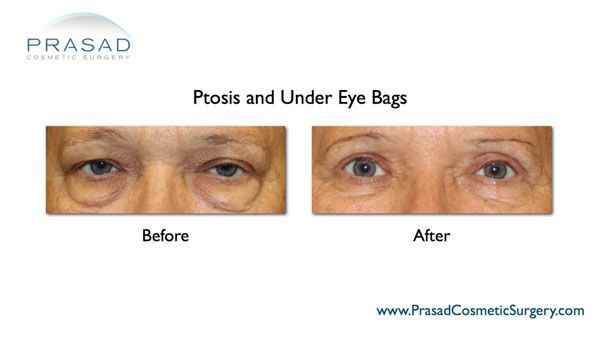 Risks involved with the eyelid surgery
Risks for lower eyelid surgery will be discussed with you prior to your surgery. As a highly experienced specialist, Dr. Prasad will help you understand how you can minimize risks for complications and how he will approach your procedure to minimize risks related directly to the surgery.
Is it better to use a laser for eye bag surgery ?
A laser is an instrument. The benefits of lasers for lower eyelid surgery depend on the the types of lasers used and the skills of the surgeon. Dr. Prasad has been using lasers to optimize the results of lower eyelid surgery for 20 years. He will discuss with you if lasers will provide advantages for your surgery.
Non-surgical options for treating eye bags
For some people with slight puffy bags and hollowing of the cheek area, hyaluronic acids fillers like Restylane may be used to blend and camouflage the bags temporarily.  During your consultation with Dr Prasad, he will advise you on the suitability of using fillers to treat your under eye bags. If there is only a slight amount of fat in the eye bags, hyaluronic acid fillers can be used as a short-term alternative to surgery.
Revision for non-surgical treatment of eye bags
Dr. Prasad often sees patients who had fillers injected below their eyes by other doctors for eye bags. Unfortunately, many people who use fillers for this purpose end up with larger eye bags. Dr. Prasad has extensive experience with this issue and routinely applies hyaluronidase, an enzyme used to dissolve hyaluronic acid fillers.
To schedule a consultation with the Board-certified Oculoplastic surgeon Dr. Prasad, contact us at our Manhattan office at (212) 265-8877 or Garden City Long Island office at (516) 742-4636. Patient financing options are available for qualified candidates.
Patient Reviews on Eye Bags Treatment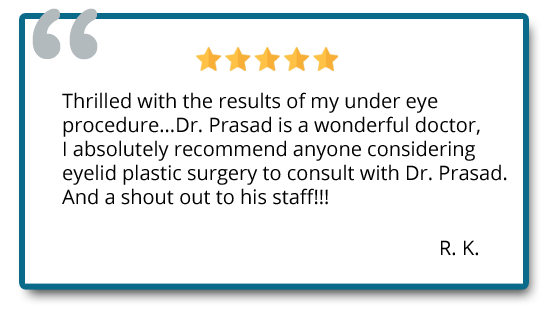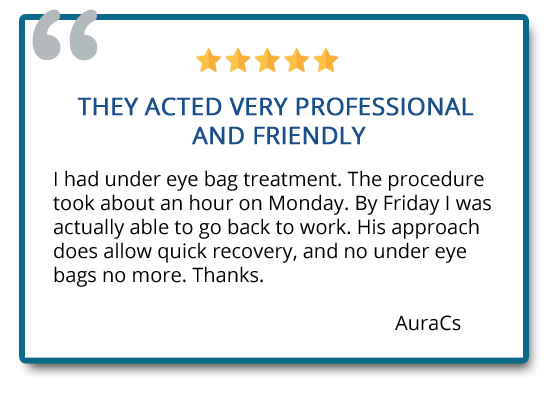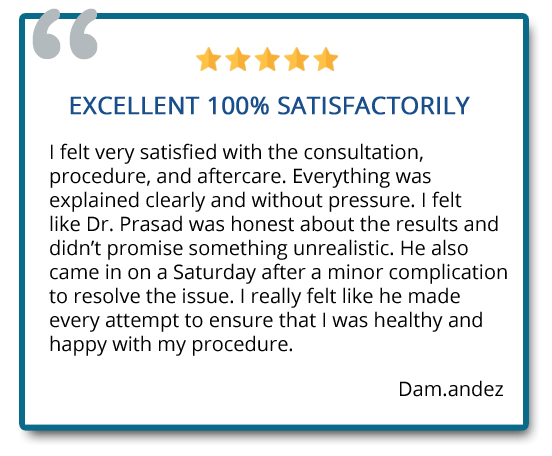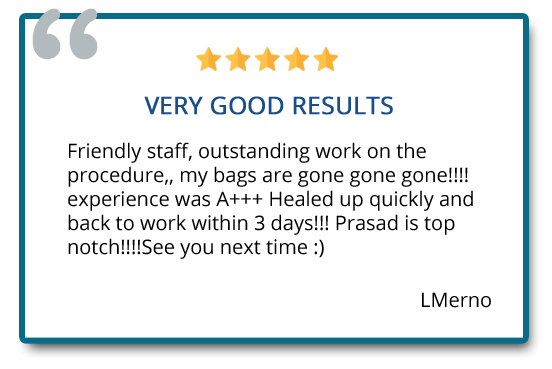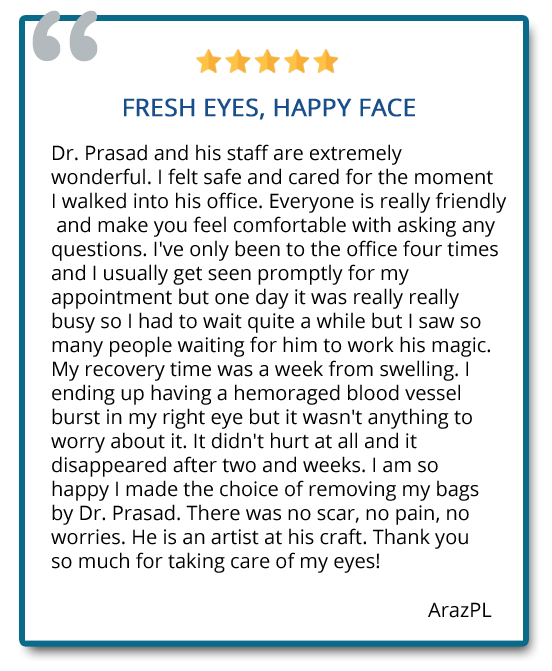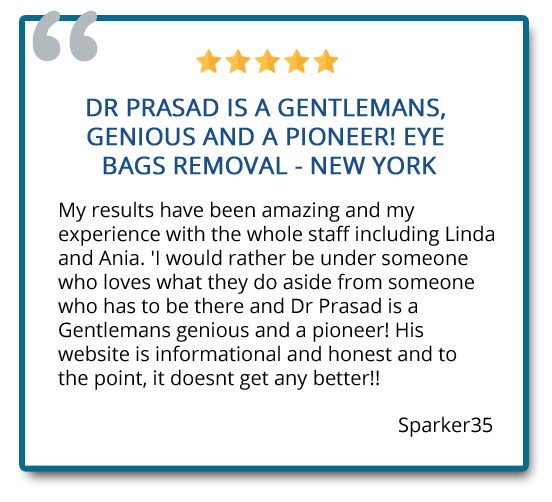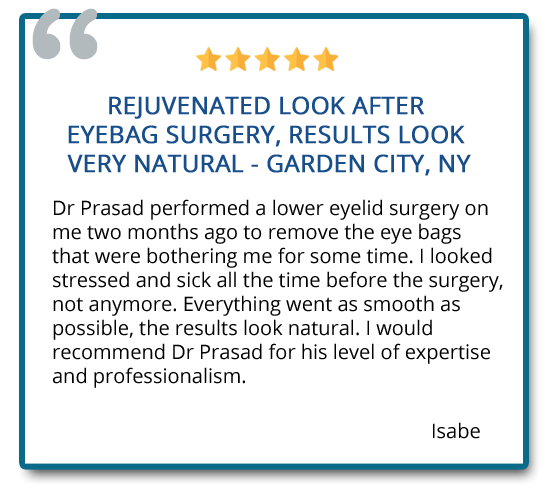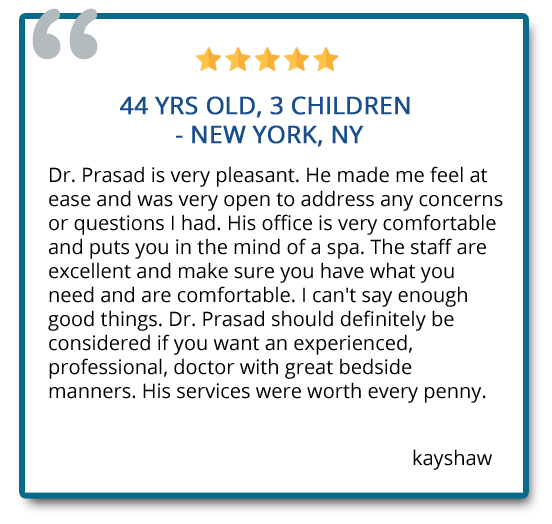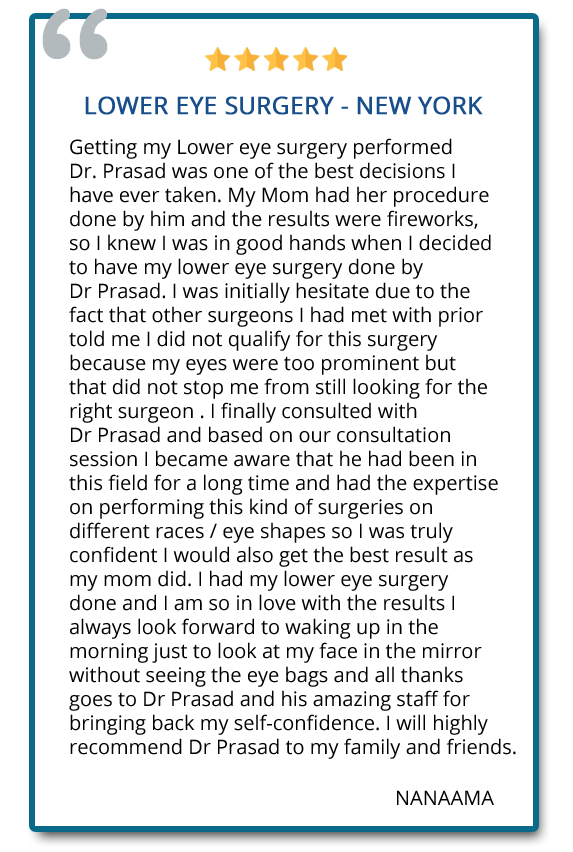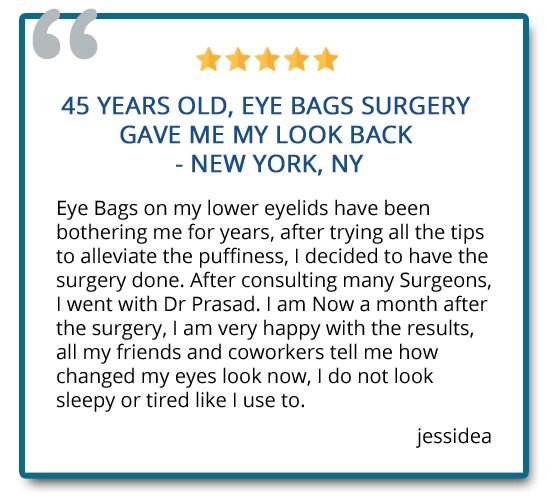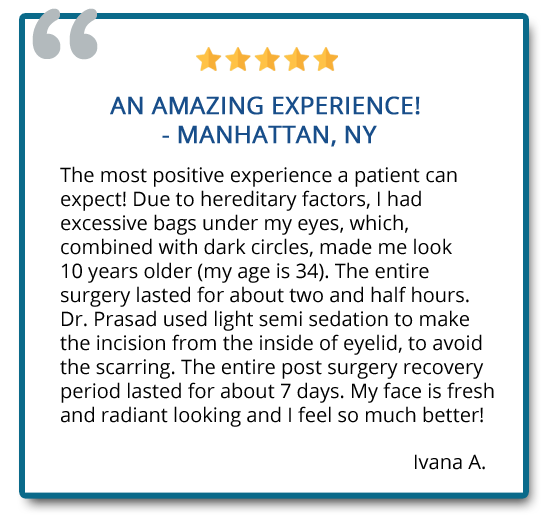 ---
Frequently Asked Questions (FAQs)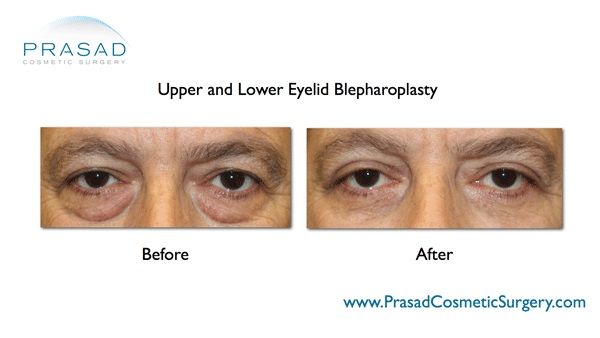 How much does lower eyelid surgery cost?
The cost of eyelid surgery is based on surgeon's fee, anesthesia, facility fees, and extensiveness of the surgery. Dr. Prasad performs his surgeries at his Joint Commission Certified facilities to provide the highest level of safety for his patients. Financing options are available.
Does the under eye bags surgery treat malar bags?
Unlike under eye bags, malar bags/ malar festoons that or sometimes referred as cheek bags, are areas that typically are filled with fluid. Allergies, sinus problems, smoking can causes them to appear. Genetics can also predispose some people into developing malar bags. Eyelid surgery generally does not make a significant impact on malar bags.
Does lower blepharoplasty get rid of wrinkles?
Blepharoplasty mostly addresses the fat inside the lower eyelid, and sometime excess skin. The surgery will not make a significant improvement when dealing with the textural quality of the skin. For dynamic wrinkles around the eyes appearing when smiling/squinting, treatments such as Botox® are used to minimize the activity of the muscles that cause wrinkles. For the wrinkles that appear when the face is at rest, also known as static wrinkles, non-surgical treatments like fractional CO2 laser,  PRP or  are used to tighten the skin, increase collagen, and generally improve quality of the skin to help in the appearance of lines.
What age should you get a blepharoplasty?
While eye bags can be caused and increase in volume due to aging, it is mostly a genetic issue that can affect younger people. Dr. Prasad commonly performs eye bag removal surgery in patients in their 20s, who have said they've had the puffiness since their teen years or younger. He has performed blepharoplasty for eye bags in three generations of the same family. Dr. Prasad's youngest patient for eye bag surgery was 14-years-old, as the eye bags were so severe he was teased at school and accused of being on drugs.
Are creams effective for the treatments of puffy eyes?
Although many creams claim to treat puffy eyes, no cream can address prolapsed lower eyelid fat since creams are topical on the skin, but the cause of eye bags are underneath the skin. Bags under the eyes cannot be treated with topical eye creams, no matter how expensive. It's important to understand how the underlying structure of the lower eyelid changes over time. Creams may make the skin appear smoother, but the underlying source of puffiness needs to be treated medically.