Early Onset Male Pattern Hair Loss Treated Without Finasteride
Age 19 at onset of hair loss
Age 25 during treatment, age 26 during follow up
A man with high DHT-sensitivity started losing hair at 19, but didn't have any medical treatment until 25, including minoxidil and finasteride. By 25, thinning at the mid scalp, hairline, and crown were already quite advanced.
He had one Hair Regeneration injection treatment session at age 25. Male pattern hair loss patients at this age are usually prescribed finasteride as part of the treatment plan, and a prescription was written. However, like many patients, compliance with finasteride can be difficult, even if it's a signed part of the treatment plan. Male patients with high DHT-sensitivity are told that the Hair Regeneration treatment is not a finasteride alternative, and in most cases of men in their 20s, the treatment works best with finasteride as part of the treatment plan.
14 months after a single Hair Regeneration treatment, then already aged 26, hair atop his scalp was significantly thicker, and the horseshoe pattern of his hair loss grew smaller. Although hair transplants are not recommended for male patients under 30 due rapid hair loss progression that's faster than hair can be transplanted, a hair transplant could not achieve the same density as native hair has a tighter density than is possible by even multiple transplants. A hair transplant with this much thinning native hair at the scalp would have resulted in collateral loss, where tightly spaced native hair follicles can be permanently damaged and lost by the sharp implanter tool.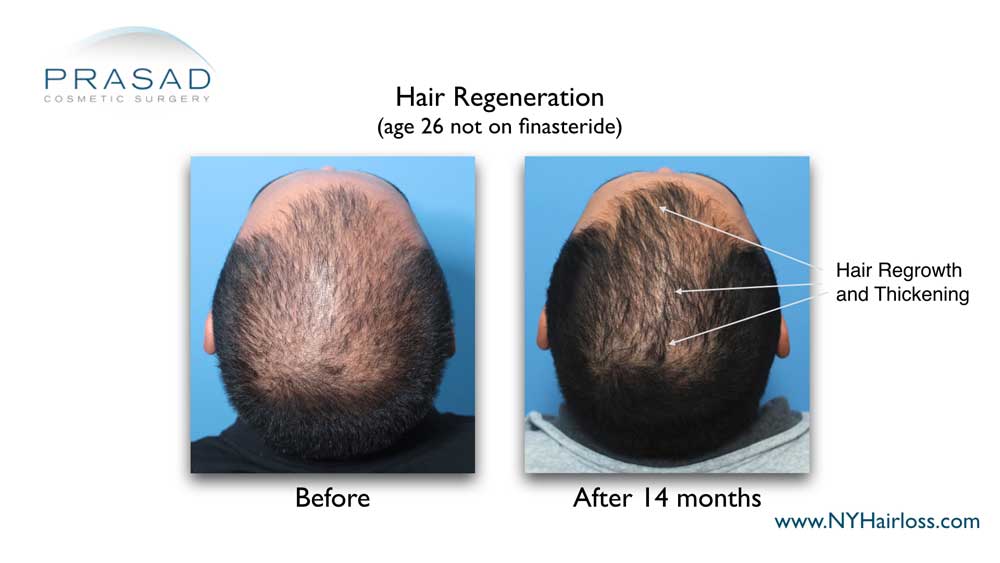 Thinning hair at the frontal hairline, mid scalp, and crown are significantly thicker after one Hair Regeneration treatment, and the patient chose to not take finasteride despite the issued prescription and inclusion in treatment plan. Finasteride is still recommended as a DHT-blocker for highly DHT-sensitive patients, most of whom are males in their 20s and early to mid 30s.
While the results of this patient were achieved without finasteride, it was still prescribed for him at time of initial consultation. The Hair Regeneration treatment can thicken thinning hair, and stimulate growth from dormant hair follicles, but since it does not block DHT-formation, it is not a replacement for a DHT-blocker like finasteride. A combination treatment plan of Hair Regeneration with finasteride is best for men with high DHT-sensitivity, and early onset of pattern hair loss to get maximum hair coverage, and longer lasting results of the Hair Regeneration treatment.